More From the Paddy Power UK Tour (Full Results)

Tony Bromham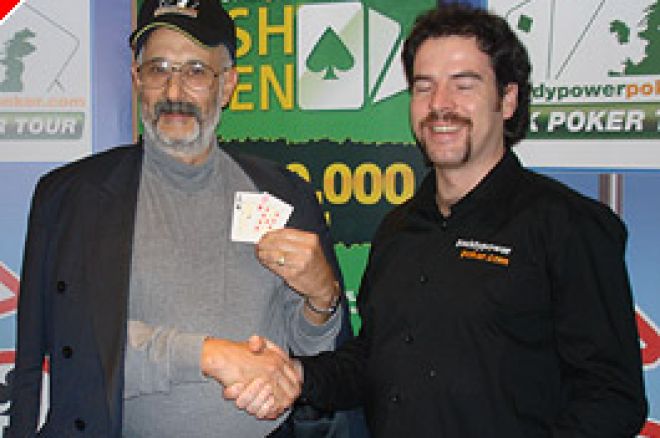 As we reported at the weekend, the Paddy Power Poker UK Tour came to a highly successful conclusion at The Sportsman casino in Marble Arch, London, much to the satisfaction of the sponsors themselves and to the ten players who made the cash prizes at the final table.
The ultimate winner was Vic regular Yilfet Sheuket (pictured on the left) who played a canny, aggressive game and saw off all of his enemies in the style of his adopted moniker, James Bond 007.
We were suitably impressed - here at UK Poker News - by the headdress worn by the winner throughout the tournament – two baseball caps at the same time – which marked this player out for stardom from the outset! Well played to Yilfet Sheuket.
The tournament commenced with an oversubscribed 80 players. At the dinner in the restaurant beforehand, several players arrived bemoaning the sell-out, as they had arrived expecting to pay themselves in. In defence of Paddy Power, their press releases were clear about this based on the earlier dates in the Tour.
Paddy Power PR man, Brendan Murray told us that the event at Banbridge in Northern Ireland was so oversubscribed that no less than 33 players elected to put themselves on the alternates list and 31 of them stayed to take their seats, the last of which was around midnight when the blinds were barely smaller than the starting stack. They are clearly dedicated players in the North.
One of the early birds at Banbridge was an online qualifier at Paddy Power Poker, Steven McArthur, from Edinburgh. Amazingly he also qualified to play at both his "home" Edinburgh leg and the London leg! This is a testament to his skill at the tables but also a measure of the opportunities available online at Paddy Power Poker. Steven paid a maximum $10 for his entries and twice missed the big cash on the UK Tour by a whisker, finishing 13th at both Edinburgh and London.
Another regular PPP UK Tour attendee, in fact playing at all six of the dates and finalling twice, was Martin "The Butcher" Dunne.
The London event last Friday was attended by a number of well-known UK poker players. World Strip Poker champion, Jon Young (albeit fully clothed) and Late Night Poker regular Koresh Nejad were in attendance but amongst those making it to the final table were "motormouth" Paul Parker, who finished 8th, Stuart Nash in 6th and serial final tabler in UK tournaments, Jeff Rogers, who cashed in a creditable 3rd for a $2,688 in prize money.
Outlasting Rogers, however, were Valee Ti-Singh and Yilfet Sheuket who fought a short heads-up battle in light of an enormous chip imbalance in "007's" favour. Sheuket called all-in bets twice and lost both times opening up a chance for a recovery by Ti-Singh. With suited JT, the all-in bet was made again but Sheuket was able to call confidently with A9 offsuit. The KQQ flop gave the smaller stack an open-ended draw but two small cards on the turn and river extinguished his challenge. Compensation arrived in the form of over £4,000 for finishing second while "007" cleaned up with £7,168.
Paddy Power's Poker Events Manager, Órla Roche said:
"The entire tour has been a fantastic way to meet grassroots poker players. There's nothing like the cut and thrust of live play and the interaction of people so it's been a great experience for everyone at Paddy Power Poker to be involved in and, we're sure, a great experience for most of the players too – well, at least the ones who cashed!"
Those who did cash also gained an entry into a special online freeroll sit'n'go tournament to win a ticket through to the massive Easter event, the €2,000,000 Guaranteed Irish Open in Dublin.
The full Paddy Power UK Tour final table results were as follows:
Edinburgh, 28th September 2006, Gala Maybury Casino
1st John McCombie — £2,100
2nd William Shields — £1,800
3rd Isabel Watson — £1,800
4th Lesley Devine — £1,800
5th Robert Griffiths — £1,800
6th Christopher Martin — £1,000
7th Richard Gill — £1,000
8th Elvio Marandola — £1,000
9th Mark Cuggy — £700
Newcastle, 15th October 2006, Aspers Casino
1st David Stephenson — £4,690
2nd Martin Dunne — £2,720
3rd Christine Brown — £1,360
4th Ifrikher Ali — £1,090
5th Hakan Ayke — £950
6th Brian Hunter — £815
7th Barry Burns — £680
8th Andy Wilson — £545
9th Mark Dolan — £410
10th Norman Little — £340
Birmingham, 26th October 2006, Broadway Casino
1st Chris Carr — £5,400
2nd Joe Kuumi — £2,700
3rd A Cartwright — £1,350
4th Adrian Bates — £1,080
5th Paul Jones — £810
6th Tom Smith — £675
7th David Mobbs — £470
8th Chen Tam — £408
9th Robert Hale — £338
10th Kowsar Chowdray — £270
Brighton, 1st November 2006, Rendezvous Casino
1st Sir Andrew Bowden — £2,625
2nd David Murphy — £2,625
3rd Martin Dunne — £2,625
4th Jaime Marza — £2,625
5th Joe Cameron — £950
6th Yusuf Cigerli — £650
7th Mark Sellwood — £550
8th Eric Christou — £400
9th Paul Nuttal — £250
10th Michael David Lambert — £100
Banbridge, 13th November 2006, Bridge Club
1st Lee Lindsay — £4,900
2nd Sean Donaldson — £2,500
3rd Damian McFall — £1,800
4th Mickey Reavey — £1,200
5th Alan Bowden — £800
6th Emmet Haughion — £500
7th Philip McCreary — £300
8th Frances Kattourait — £200
9th Keith gibson — £200
London, 1st December 2006, The Sportsman Casino
1st Yilfet Sheuket — £7,168
2st Valee Ti-Singh — £4032
3rd Jeff Rogers — £2,688
4th Parvez Rogers — £2,240
5th Malke Nasser — £1,792
6th Stuart Nash — £1,344
7th Lawrence Tyler — £1,120
8th Paul Parker — £896
9th Samir Jabak — £672
10th Andy Gilravey — £448
Ed note: Qualify for the €2,000,000 Irish Open by downloading Paddy Power Poker and claim a $500 deposit bonus too!