Stuff Your Turkey! at Paddy Power Poker

Paul Sandells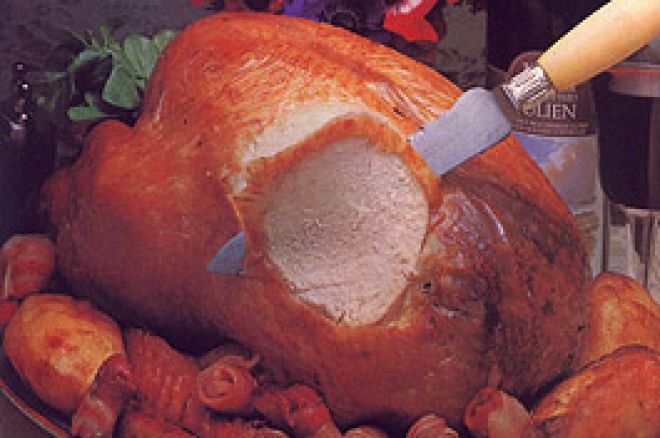 Fed up of Christmas already? Bah Humbug! Well, head over to Paddy Power Poker this festival period and give Christmas the bird with three great new promotions.
As Christmas starts in June these days it's easy to become somewhat disillusioned by the whole thing, even before December 25th arrives! Then, when the big day does arrive, it's stress, stress, stress! Who needs it all?
Let Paddy Power Poker de-stress you this Christmas with their new "Stuff Your Turkey" promotion. Some simple, yet exciting, promotions to line your pockets and put the smile back on your face. Ireland's biggest bookmaker kicked off their Christmas promotions yesterday and will run them right through until January 1st 2007.
First of all, cash game players can benefit from the We Three Kings promotion. Get a full house with three Kings in it and PPP will drop a free fiver into your account.
There's more with Jack-Frost's Freebie Get a poker of jacks and you could win up to $100 for free.
Do you prefer tournaments? How about the delightfully named Posthangoverprepub tournament! Everyday at 4pm, this free to enter tournament increases in value by $25. Starting on the 21st at $50 and building a chunky $325 on New Years Eve.
Christmas Day itself has a sack full of goodies that would embarrass Santa himself!
At 6pm the Gold Giveaway offers $644 in a free to enter tournament. Why $644? That's the price of an ounce of gold.
At 9pm the Frankincense Freeroll takes things up another notch. The boys at Paddy Power couldn't find how much an ounce of frankincense costs, so they guessed at around 200 bucks. Join this tournament for 100pp and take a shot at the $200 on offer.
Finally, at midnight, the Myrrh Meltdown finishes the day off nicely. Let's be honest nobody at Paddy Power knows what Myrrh is, so they're just going to add $300 to this $10 rebuy tournament.
Ed note: Have a Merry Christmas at Paddy Power Poker