Tune In for High Stakes Cash in London!

Tony Bromham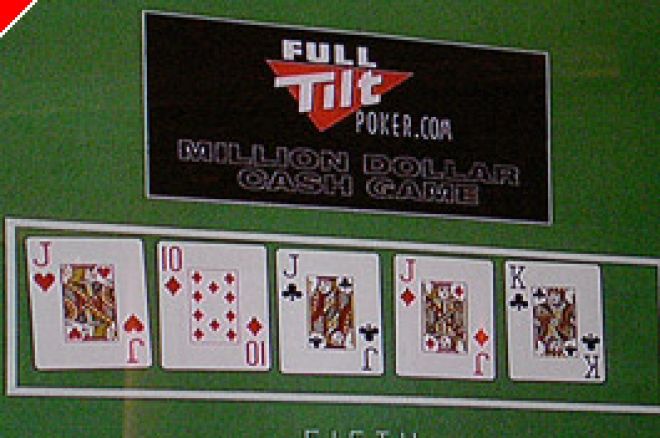 UK Poker News readers will already be aware of the huge cash game that was held in London recently, attended by the poker greats of the game under the Full Tilt Poker umbrella. Now, you can see for yourself what it was all about!
Emblaze Productions are presenting the Full Tilt Poker MILLION DOLLAR CASH GAME over four episodes in January 2007. This will cover Europe's biggest ever game of televised high stakes poker and will air every Tuesday night on Sky Sports. The first programme will be shown on Tuesday 2nd January at 10.00pm on Sky Sports 2.
"Million Dollar Cash Game" features a massive gathering in London of many of the world's most well-known poker personalities, all of whom had big money to burn. The line up was mouth-watering and in fact there were not enough seats for them all. This didn't matter as they each took time-outs to head for the bar and allow another high-roller with a minimum $100,000 in his or her pocket to take up the challenge!
The event was held at the exclusive Fifty Casino in London and every hand played out was captured by the cameras for the forthcoming January broadcasts.
The event was sponsored by Full Tilt Poker and they ensured that the full line-up of their extensive superstar stable of poker players was in town for this exclusive cash game. In addition, a select number of other top players contributed to the fun.
When you tune in to Sky Sports 2 in January, here is who you can expect to see betting five and six figure sums on the turn of a card:
- Phil Ivey – Has won over $7,000,000 in tournament prize money and five Gold Bracelets at the World Series of Poker. He usually plays in the highest stake cash games at the Bellagio in Las Vegas.
- Gus Hansen - Has won no less than four World Poker Tour (WPT) Main Events. Known for his aggressive style and fearless tactics that befuddle the greatest of opponents.
- Howard Lederer - Has won two WPT Main Events and two WSOP Gold Bracelets.
- Roland de Wolfe - Winner of a WPT Main Event and recently picked up the European Poker Tour Championship in Dublin.
- Erik Seidel - Has won an amazing seven WSOP Gold Bracelets and over $5,500,000 in tournaments.
- Jennifer Harman – She is a fearsome high-stakes cash specialist and the only woman to have won two WSOP Gold Bracelets.
- John Juanda - has won three WSOP Gold Bracelets and over $6,000,000 in tournaments.
- Mike Matusow - has two WSOP Gold Bracelets to his name and finished an unlucky 9th at the WSOP Main Event in 2005 after taking an awful bad beat.
- Chris "Jesus" Ferguson – winner of five Gold Bracelets and holder of the record for more money finishes in the WSOP series than any other player (42), including 25 final tables.
- Allen Cunningham - an unlucky fourth in this year's WSOP Main Event but still picked up over $3,600,000 for that effort. Also winner of four Gold Bracelets in the last five years.
- Tony G - Entertainer extraordinaire and notorious deliverer of the table rubdown, Tony G recently won the inaugural Asian Poker Tour Main Event in Singapore and gave away half his $500,000 winnings to charity.
- Marc Goodwin - High stakes game specialist from the UK.
James Hopkins, Director of Emblaze Productions, said:
"This is a hugely exciting series featuring the biggest names in world poker, and guaranteed thrilling viewing. With millions of dollars being staked, this is the first high stakes cash game to be produced and televised in Europe promising something new for poker fans."
You can see the whole spectacular game unfold during the following screen times on Sky Sports 2:
- Tuesday 2nd January: 10.00pm
- Tuesday 9th January: 10.30pm
- Tuesday 16th January: 10.00pm
- Tuesday 23rd January: 10.00pm
Ed note: Take your last chance to play the Aussie Millions for free! Download Titan Poker to register for the exclusive Poker News Freeroll on 30th December and also receive $50 Free Cash when you sign up!