Grosvenor Luton Christmas Cracker Main Event Report.

Richard Prew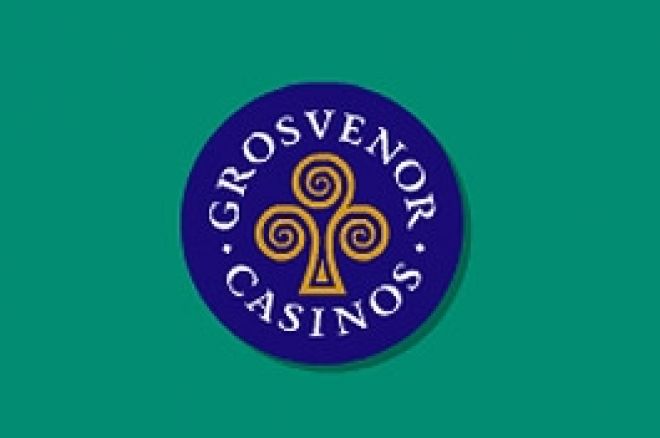 Over the past weekend the UK festival scene saw the conclusion of the final event of the year, the Luton Christmas Cracker. This festival is traditionally one of the smaller affairs on the calendar with numbers limited to under 100 by the demands for space for Christmas celebrations in the casino. Fortunately, with the casino's impending move to 180 player capacity new premises this will be the last year this is an issue.
The competition itself, a £750 No Limit Freezeout with 10,000 starting chips was unsurprisingly oversubscribed and attracted 100 runners battling over a £25,000 first prize. The field was slightly unusual in containing a higher proportion than usual of local players and only a comparatively small proportion of festival regulars, explained by the limited numbers and the high number of pre-event satellites in the casino in the weeks preceding the event.
Amongst the early leaders on day one were Xuyen "BadGirl" Vladar who rivered the nut flush to knock out Jim Reid with pocket Aces and Paul Alterman. Worryingly for the rest of the field the ever dangerous Ali Mallu then knocked out James Browning when his pocket Queens stood up against AK, all in pre-flop. Elsewhere players like Jim McShane, a side event winner earlier in the week, moved into contention when hitting a set against and overpair on the flop and busting his opponent, as did Damon D'Cruz who towards the end of the day took AK suited up against Aces, all in pre-flop and doubled up when he hit the nut flush.
At the end of Day One 36 players remained and with blinds at only 400-800 because of the hour clock plenty of play remained. Chip Leaders each with 50,000 chips were two familiar names, Ali Mallu (using the big stack to unsurprising good effect) and Micky Wernick, progressing more consistently. Below them followed local players Jim McBride and Chris Eddelman ahead of a whole mass of players around the 20-30,000 chip mark including Bad Girl, Dan Samson and Marc Goodwin.
Dan Samson was the player who experienced a most sustained rollercoaster ride in the early play on Day 2, picking up a series of excellent starting hands to progress and then knocking out Marc Goodwin. When he tangled with Ali Mallu he became chip leader. Raising with Aces, Ali re-raised with a suited Ace Nine and then surprisingly to most of us called Dan's pre flop push. When the board did not help Ali he had doubled Samson up.
Never one to be discouraged for long, Mallu was soon back in action raising with rags and then facing a Push from S Patel with Queens. Ali called, with 8 4 off, gambling as usual. The flop brought Patel a trip Queen but remarkably Mallu hit a runner-runner straight by the river to recover his chip position.
Making progress elsewhere were Anthony Kirkbride, an online qualifier on Blue Square who was the recipient of Mallu's largesse on more than one occasion and Dick Shek propelled towards the head of affairs by hitting a rivered straight flush. Unfortunately for Dan Samson his chip lead proved very temporary as he lost a number of 50-50 races in quick succession to depart shortly before the final. Sadly the same occurred to Mickey Wernick, his final denouement in the tournament being the inevitable QQ versus AK confrontation late in NL tournaments.
When Ali Mallu departed in 11th, having lost 100,000 chips in two levels through hyper aggressive play that on this occasion did not pay off the field had reached the bubble where Irishman Michael McCool, serial festival circuit winner including the main support event on the Thursday, lost two key hands. Calling a short-stack's all in, he had QQ veruss K10 To see a King hit the flop and then in an un-raised pot in the small blind he looked down at 3 4 off-suit and a flop of 3 4 Q versus Anthony Kirkbride in the Big Blind. In a series of swift raises and re-raises all the chips were soon pushed into the middle and Kirkbride turned over two black Aces. McCool looked in great shape until the river brought a third Ace to knock him out in 10th.
Unsurprisingly after that confrontation Kirkbride entered the final (1,000,000 chips in play) as chip leader with 224,000 chips ahead of local youngster Drixton Haxhaj (207,000), Jim McBride (139,000) and Dick Shek (103,000). Behind the leaders were the very consistent Paul King, Bill Davies, Chris Huyton and the short-stacked Ryan Fronda and Paul Webb.
After the quick departure in 9th of Paul Webb at the hands of Jim McBride there followed a level long passage of raise and fold poker that culminated in the bigger chip stacks becoming even healthier and Kirkbride and Haxhaj each had 280,000 chips ahead of McBride's 137,000 with the rest now short-stacked and seemingly waiting for each other to make a move.
However as blind levels really began to bite we saw a dramatic change in the competition's chip geography as short-stacks repeatedly doubled up, mostly of Haxhaj and most notably Paul King. Bill Davies then knocked out Chris Huyton in 8th by rivering the nut flush to beat top pair and Dick Shek was cruelly unlucky. All in with AQ against Kirkbride's QJ, the flop brought a 10 and the turn and river the Ace and King to give Anthony "broadway" and knock Shek out in 7th.
When Haxhaj departed in 6th with JJ at the hands of King's KQ the competition had finally made substantial progress on a long night. Kirkbride was a big chip leader with 405 of the chips in play ahead of Ryan Fronda with 22% after several successful double up and a lot of uncalled pushes and Paul King with 18%.
Kirkbride continued his rampage through the final tablists by knocking out McBride in fifth, A6 versus A6, Kirkbride four flushing with the the Ace of diamonds in his hand then eliminated Bill Davies in fourth to move to 635,000 chips ahead of Fronda and King.
In another turn both King and Fronda doubled up of Kirkbride to even up the chip counts substantially at which point they each agreed to take £14,000 and play for the rest. Fronda then moved into the chip lead when he outdrew Kirkbride's JJ with A8.
With his one huge chip stack substantially whittled away Kirkbride then fell to Paul King in third, A5 versus AQ and Ryan Fronda then outdrew King for the title and the £5,000 extra with QJ versus A9 to become the 2006 Christmas Cracker champion, a great performance having started the final table low on chips and patiently playing a shortstack all Day two.
Ed note: Download Mansion Poker and grab yourself a massive $1,000 deposit bonus