Christmas Poker Value Hunting: 16th-22nd December

Kevin Stevens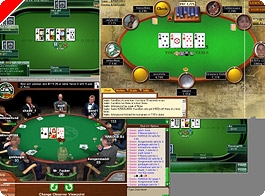 The run up to Christmas is always such an expensive time of the year, so we at UK PokerNews thought it would be a good idea to go looking for a bit of holiday season 'value'. With you all busy wrapping presents and preparing for the coming festivities we have searched the highways and byways of the world wide web for the best value the online poker rooms have to offer.
December 22nd 8PM
A special Bounty tournament with prizes for the players who last the longest and prizes for knocking the bounties out. Finish in the final 10 of the tournament and you will win free entry into the $250,000 Guaranteed Tournament in January. Finish in the final 3 of the tournament and win free entry into the January $250,000 Guaranteed PLUS free entry into all the $150,000 Guarantees during January.
December 16th-22nd
The $250,000 added tournament series is now in full swing, with $10,000 added to the $100+$9 event on the 16th and a $20,000 bonus for the $200+$15 tournament played on the 17th, Mansion Poker continues to be one of the value hunter's most fertile hunting grounds. Daily $5,000 added tournaments with a $50+5 buy-in will be running for the duration of the promotion which finishes in the New Year.
December 16th-22nd
The 888.com holiday gift madness promotion will be running throughout the festive period. The top 5 Comp Point accumulators on each event day will be entered into one of three restricted tournaments where they have the chance to win one of 22 amazing gifts such as an LCD TV, mountain bike, digital camera, Sony Hi-fi, iPods and much more. Plus an end-of-event Grand Raffle will award one lucky player with a fantastic high-end laptop!
December 16th-22nd
The Everest Poker twelve days promotion is gaining pace. Two $500 freerolls with a 100 Summit Points buy-in will take place on the 16th and the 19th. A $1,000 sweepstake will take place on the 18th and LCD Monitor and iPod freerolls with a 100 Summit Points buy-in will take place on the 21st and 22nd. The highlights are sure to be the freerolls held on the 17th and 20th with a magnificent prize of an entry to the EPT event at Deauville. This is a €5,000 buy-in event that runs from February 20th to 24th, held at the magnificent Casino Barriere de Deauville.
Ed note: Want more? Try One Sick Promo from Sun Poker and win your WSOP 2007 seat