Table Image –Raise Your Profile and Make Millions

Catman - The Poker Agent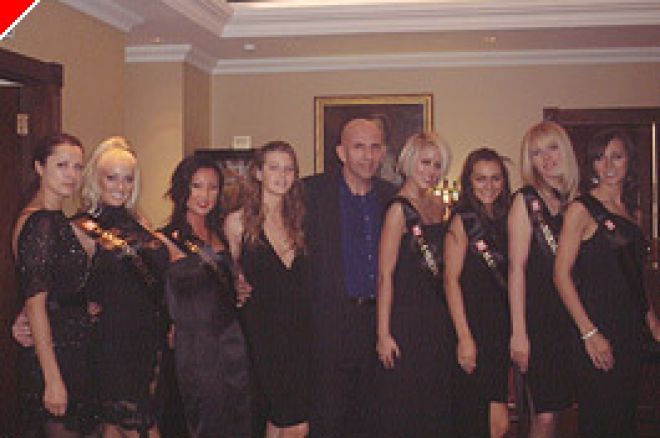 Once more, Catman – The Poker Agent brings us his very own style, opinions and take on the selling of poker to the masses. This time he looks at the image of the poker player and what it can bring in rewards and riches. As always, his views are his own!
It's not just sex that sells, but image is vital for every action and reaction, not only at the table but also in terms of having any success "chasing the dragon"; our particular "dragon" of course being sponsorship. Your table image is the key to your future fortunes; it is at the table that this monster must be unleashed in a disciplined and spiritual way.
With the effect of the U.S legislation, every poker player's ultimate dream - that of being sponsored - has taken a further step back. The only sponsorship of any note that we can talk about now is that of Roland De Wolfe; he is a sponsor's dream having won nearly $2 million this year. He is a handsome, articulate young Englishman who keeps winning. A man who has lived the dream, and - "Bob's Your Uncle" - unlimited poker at Full Tilt's expense! Yes, I did try to get him under my wing, but of course the American agents beat me to him. Please don't tell me how big he plays or any other gossip about his losses, no one cares, let us just emulate his success. He is one of poker's few naturals, his play is excellent and he is lucky enough to have a natural marketable image.
Image is a kingpin to power-play at the poker table and beyond; to win or even access the dragon, your personal brand must stand out. "It's not just the cards, but the way you play 'em" - we all know this, but how often do we forget? If you start to believe you are your hero, you might well improve your game 500%. They are at the top because they have belief in their games, they believe they are unbeatable and in most cases they are.
But beyond that, they work it every televised game they play. Do you think Danny might not be budgeting the odd $10k or so in high stakes on $5/$10 NL "off-suit play", to increase his profile? Your style of play dictates what you may become; your games become your brand; do you want to be a Mini or a DB9? When Sammy Fahar sits down, he is the Scarface of high stakes, dressed and acting his role whilst playing masterful poker.
Phil Ivey is spiritual in contrast to Phil Hellmuth (another natural). You might think that Ivey had spent several nights of lust with Medusa herself. Sometimes as boring as the rock his image may betray, but thanks to under table cameras we can read his every move, can't we not? Forget the standard utterance you hear at every game; "I put him on AQ or a medium pair", good read maybe, but the goliath image projected by Ivey is the Mac 10 of the poker world. Phil Ivey, might well have become a great Yogi, you know the ones that can play music through their lower bowel, so great is his control of emotion at the table. Hellmuth is a Tai Chi practitioner, he is not quite the Bruce Lee of poker, but his training and quest for self-improvement is eternal. He isn't often seen to control his emotions in such a spiritual light, but he too is a Grandmaster of brand/table image.
Image is something that you must develop; okay, if you are naturally handsome like the chap in the photo (see picture – apologies for the gloomy light!) then great, but image and your brand presence are something you build. It is the ability to present a presence that is feared or incomprehensible at the table that makes for success.
Then along comes Tony G, a nicer man off the table you could never hope to meet, and I for one would pay to, and probably will pay if I get the chance to, sit at the poker table with him! Where Tony G pulls it out from I cannot tell you, it might be natural but how could it be, this is character acting beyond Oscar level. We could speak for hours but the money isn't that good, so let us move on.
So what do you need at the table to win, or in the market place to get, sponsorship? Well, you are going to need "big cohunes", focus, discipline and perseverance. I was delighted to attend the forefathers of European Poker's Xmas shindig, The Hendon Mob that is. In 2003, the big news was the sponsorship of the Mobsters.
On Jan 30, 2004, The Hendon Mob received the largest terrestrial sponsorship in the history of poker at that time - $1 million. I can't remember the nicknames I once gave them, when some little "goblet" slagged them off on a forum, but let us all follow their example and we too may be sponsored one day.
It's amazing what money can do for you. Joe had forked out an entire monkey (£500) for the buffet I spent most of the night scoffing, it was the absolute dog's bananas. But more to the point, The Mob's sensational record at the poker table and in terms of sponsorship is a result of image and branding. I think in the early days they may not have understood what kind of brand they really were but the combination of Bond, Cooper, Beast and Thespian combined with poker excellence, has left them sponsored till this very day. I did not see the Thespian at the party, but the Mobsters were happy, content men and, my, I will always salute them.
Being a sensational player is not enough these days; you have got to work and work. One of the worst poker players I know is the infamous real life Bow Bells cockney, Roy Houghton, he of The Loose Cannon Club and the VC Players Lounge. He projects an image of a "ratty, obnoxious git" (he will love this) but the man is in reality a true saint. Roy is off to The European Poker Awards in Paris this weekend and I believe he has a chance of a major award; Roy is a natural. Most of the great players have built their discipline through playing the role of a great poker player and then, a la Roland, you are one.
If you try hard enough you will get the rewards. Remember this small bit of advice from a man who was once featured in 'The Saturday Times Magazine' in no less than five pages titled "The London School of Passion", teaching women confidence and a little more. If you ever feel unhappy, act happy as an actor would and you will become happy; the same goes for confidence, strength and image; trust me on this one. Try it, learning and training will benefit every level of your game, and in turn boost your marketability, sales and profit margin.
I just came back from Dublin where I played in Paddy Power's Christmas Cracker, and learnt a lot about the masters of image, Mr Paddy Power himself and the fantastic breed of poker player that is the Irish. Let me tell you, the Irish are not totally mad gamblers; it might be the Viking in them but they are tactically excellent. Never be fooled, their hospitality and charm is a tactical weapon in their aim to enjoy taking your every last cent.
I am lucky enough to be appearing on Poker Night Live - Channel 843 on Sky - on the 12th and 18th December, if you want a laugh please tune in! I have promised not to swear and I will do my very best.
Catman's Competition
If you want to feel like the handsome chap in the picture above, I am honoured to say I have a massive prize competition for you this week. Drink one of the two bottles of Chivas Regal I am proud to have sitting in my office and you will feel exceptionally happy and your image grow, just like my, errr...let's say, ego did in this lovely photo with some beautiful MANSION girls. Simply send me your loveliest sycophantic funny Caption for the photo to catmanlondon@hotmail.com and I will announce the winners next week.
Ed note: Build your poker image by playing for the $1,000 bonus available when you download MANSION Poker and play the Poker News Exclusive Aussie Millions Freeroll