Poker Night Live or How to Improve Your Profits by 120%

Catman - The Poker Agent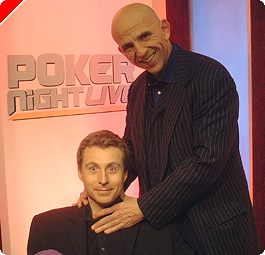 Welcome to this week's observations from "Catman – The Poker Agent", who reflects on a session under the TV lights at Poker Zone and the surprising pressures that it brought. Fear not those who missed this on Channel 843 on Sky, as you can tune in tonight (Monday 18th December) as he is having another pop!
Learning poker to the standard required to become a consistent winner is a task most of us never achieve. It is the excitement of the game that overcomes the need to maintain the discipline of playing the right cards. Lousy cards become so pretty after the shortest of dry spells. Mike Caro says "Poker is played on a whim", but how on earth can you control this gremlin that torments your desire to be in a hand?
Card selection and discipline are surely two of the earliest skills we must master as poker players. This gremlin then turns into a raging bull when you sit down in a cash game, with only an hour to prove your worth, and a table full of "sharks" waiting to suck your very last ounce of blood. Well, we are not talking High Stakes here, but being a guest presenter on the cult poker show "Poker Night Live".
This star show of Poker Zone TV has a global audience, thanks to its mini TV screen that appears via broadband all over the world, including no less than three thousand regular viewers in New Zealand. It goes out across Europe on cable/satellite, Sky 843, and is transmitted via cable in Hungary, Canada and Germany. Jim Sibcy said: "I think the popularity of the programme is the opportunity for players to learn or not learn how to play poker from the pros. It is a learning community and our regular TV table players have recorded profit increases as much as 120% after having studied and played while watching or being on the show".
Well, last Wednesday was my lucky night to be a guest presenter on the show. The legend that is presenter Doctor Tom, a player I knew from The Dungeon that is Stakis Casino in 1999, introduced me as "Poker Agent and PhD student, Catman". Now, PhD student I am, having around 14,000 hours of mainly cash dealer's choice behind me, I certainly have had a fair education. I couldn't have been more relaxed or exhausted after a day of heavy poker meetings. I know the odds, but I always quote "you can't beat odds" especially after my KK got cracked by AQ all-in whilst playing in Paddy Power's Christmas Cracker last weekend. I was 72% favourite and I couldn't even beat the odds, when they were on my side. Playing the odds was made for cash games primarily and as a guide in tournaments, a point that can be argued and of course is dependent on your chip stack and desperation levels. Dr Tom is an odds advocate and makes a profit, as well as being an excellent presenter.
Having been a regular view of the show for over the 9 months or so that I have had Sky, albeit for 5 minutes or so while channel surfing late at night, I had an idea what it was about. Did I waffle on at times! But, as in poker, it's about learning and I have learnt plenty from my one appearance. The first Golden Rule in poker is it is a game for life, not an hour. You can never enter a cash game, with a limited bankroll and aim to hit and run in an hour. You need time to sit, get to know the opposition and of course have a pocket that will allow for at least a number of buy-ins. Knowing that the legend that is The Devilfish had recently preceded me on the show, and lost $300 in that hour session, had set me a challenge. My bankroll given by the producer was $108 with which I was to sit at a $1-$2 NL Hold'em game. Fortunately for me I got booted and ended up on a $0.50-$1 NL game.
I was truly elated to be on the show, and sitting down and playing poker with other people's money is also something I thoroughly enjoy. So there I sat and it hit me in the face, a microscopic TV screen with a quivering mouse cursor. First hand in I got 9J off; I made a minimum raise (by error, the slider needs to be found and I had not got my glasses); I just want to announce my arrival. Bingo, the flop came 6JQ; Christmas then turned into a turkey, I bet to be called by one player. Great, my "oppo" must have a Queen. The turn came a ten; now, in my tiredness and for the first time in say 3 years, I really believed I had the straight! I bet, he called. After the call, I realised my straight was only a draw. The river came a blank, I checked, the opponent bet $5, the fish that I am had to call to see the set of Jacks!
I think back, I have taught beginners how to play some damm fine solid live poker, but here I am playing on global TV with 29 railbirds in a miniscule game. This was a new pressure, I have never been a high stakes player but I can safely say I have held my own with some of the best in the world. This was the hot seat from Hell! What do you do, a couple of poor minimum raises (I blame my poor eyesight). Later, I am down to $58 of my $108, it wasn't just one bad play, it was a lack of cards and as the game is called "beat the presenter", that is what they do, even the railbirds like 'Upkis' want to show you off the table broke.
Let's face it, we all love to add a pro or PhD student to our trophy case at any tournament we get to face them. A friend of mine recently sat down in a $5,000 re-buy event; yes, you heard right, it was a private game with about twenty top players in. He was delighted, as it had only cost him $10,000 to knock Gus Hansen out of a game!
I battled on and played some good poker, took advantage when 'Frankie' didn't bet and let me make my gutshot draw, had a few gambles and went away with $158. Wow, I was relieved. Being an agent, my job is generally to talk and talk, to talk the pants off them literally. But to talk on one subject and analyse a hand at the same time requires a healthy, alert mind. Never play poker or commentate when you are tired!
The show is attracting some very big poker names, please do have a look at www.pokerzone.tv, but above all tune in tonight (Monday 18th December) and offer me some support, from 9pm! I will do my best to learn with you, and if you want to meet a piranha I will be ready and waiting at the cash game.
Ed note: Get into your poker zone with a free $50 in cash when you download Titan Poker. You can also earn $500 in bonuses from your first hand of cards.