Act Now for the AUSSIE MILLIONS Freerolls and Qualifiers!

Tony Bromham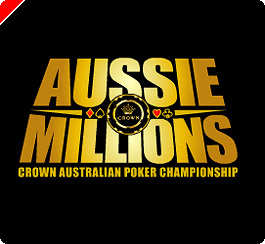 How often do you get the chance to fly to Australia, stay ten nights at a top hotel, and then join the same tables as the world's leading poker players in one of the biggest tournaments in the calendar, without, in some cases, paying a penny to enter the qualifiers? And you will receive support during the Aussie Millions from Poker News professionals Tony G and Noah Boeken!
Poker News continues to offer you that chance, as it did for UK postal sorter Shaun Lang but time is running short to enter our remaining Exclusive Poker News Aussie Millions Freerolls and Qualifiers. You need to act now!
Because these are exclusive tournaments available only to Poker News readers, the numbers playing will not be anything like as high as the standard "anyone can play" events that you will find elsewhere. In the Poker News Aussie Millions Freerolls and Qualifiers, everyone has a realistic chance to make it to Melbourne! So, here is how to do it and the options you have. You can enter either or both of them so long as you have signed up to the hosting poker rooms through Poker News.
Mansion Poker Aussie Millions Qualifier
This one is not a freeroll but it is loaded with a valuable prize fund overlay from the hosting room! To join Team PokerNews at the Aussie Millions in January, you simply register for the $100 + $4 special tournament. For this, Mansion Poker will add a huge $17,000 of additional prizes over and above each player's own buy-in. $12,000 relates to the big prize of a trip to the Aussie Millions (including $2,800 spending and travel money) while $5,000 simply ensures all other cash prize winners benefit from more cash prizes. The Aussie package includes no less than a ten-night stay at the luxurious Crown Promenade Hotel in Melbourne as well as the big poker buy-in.
Once you have joined Mansion Poker through UK Poker News (or if you have already done so), simply head to the Tournament Lobby, look for "PokerNews Aussie Millions" and use the password "millions4me"!
This Mansion Poker Aussie Millions tournament takes place on 22nd December at 23.30 GMT (18.30 EST) and requires a minimum $25 deposit when you open your Mansion account here.
Titan Poker Aussie Millions Freeroll
Entry into this tournament at Titan Poker is FREE and the winner receives the $12,000 package with ten nights to the Aussie Millions! All you have to do is join Titan Poker here (unless you already have joined via Poker News) and earn 2,000 Player Points. You need only deposit $20 but if you round it up to $25, Titan will add a free gift of a further $50 cash to your account to make it easier for you.
You also earn a bonus as you play. If you deposit $500 at the outset, you will receive a matched $500 bonus as you play for your Player Points. Titan Poker also runs a special $2,000 guaranteed prize money Poker News freeroll every month!
This Titan Poker Aussie Millions freeroll tournament takes place on 30th December at 20.00 GMT (15.00 EST) and requires a minimum $20 deposit and 2,000 Player Points to enter.
Qualify now and you can join Tony G, Noah Boeken and Shaun Lang at the top tables in Melbourne!
Ed note: Claim free cash, huge 100% bonuses and value-packed tournaments when you download Titan Poker