Tournament Report – APAT UK Amateur Poker Championship

Barry Carter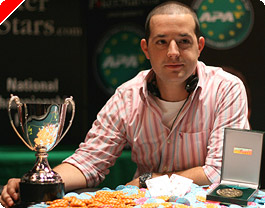 As I write, day 2 of the APAT UK Amateur Poker Championship at Aspers Casino, Newcastle is underway. That does of course mean I have been eliminated. Normally I would be sat going over how I should have played certain hands differently, cursing bad beats and generally being unpleasant to be around. Instead all I can say is I have a warm glow inside of me, and a prevailing motto keeps popping up in my head…..
Poker……. is fun.
The first time I played live in a casino was an unpleasant experience. I was sat at a table of miserable old pros, who looked like a collective of drug dealers, thugs and northern circuit comedians. They were swearing, smoking and making loud racist jokes for all to hear. I was worried if I busted one of them they would be waiting outside for me with sharp sticks and pork pies, and typically I got dealt pocket queens to take the biggest, scariest one to the felt.
Behind me two huge guys started fighting with each other after one guy accused the other of looking at his cards and it seemed every two minutes someone was screaming 'STRING BET' at the top of their lungs. It was a very intimidating experience and only the love of cards kept me interested in the live game.
If only they had events like the APAT running back when I started playing. The APAT have really put the fun back into live poker and have created a friendly communal atmosphere where for relatively low stakes, up and coming players can get a feel for real deep stack poker at the most professionally run casinos in the UK.
The proceedings started with Tony Kendall (Tikay) on the microphone, getting us all to count down from ten for the first deal of the evening. It wasn't long before we have someone eliminated from the competition, which we are all made well aware of because every all in moment is narrated as it happens by Tikay on the mic. Normally being busted is a dark lonely time for anyone in a tournament, but not with the APAT, every single time a person eliminated, the action stops and they get a huge round of applause from everyone in the card room, so the first guy out became something of a cult hero amongst the remaining 209 participants.
Getting an ovation from your peers really does take the sting out of getting busted and is one of the many things that make the APAT as much about the experience as it is about winning money.
The poker players did their part too, everybody was well behaved, friendly and supportive to one another. There was plenty of banter but all in the best of taste and not once did I see anyone dispute a single hand with the dealer or other players.
Aspers Casino really proved its worth as one of the best casinos in the country, with lavish surroundings, friendly professional staff and superb dealers. A very kind gesture on the part of the general manager was to validate our parking and buy a round of drinks for everyone in the cardroom.
Even though it was the 'amateur' poker championships, amateur is one of the last words I would use to describe the players, as many of them were head and shoulders above some of the 'pros' I have played against before and there wasn't a single table that could be described as a walkover.
A few friends and I mused over how Tikay and his colleagues could possibly make a profit from the APAT, after all every penny of the entry fee goes into the prize pool. It's easy to be cynical in this day an age, especially in such a money driven industry as poker, but we all concluded that the reason the APAT exists is purely for the love of the game with no financial motives.
If you have never played live before or if you have and didn't enjoy it, I suggest you get yourself down to an APAT event and see poker in its most enjoyable and friendliest form. The APAT really have put together what feels like the worlds biggest home game.
Ed: Max Ward (pictured) is the 2006 UK Amateur Poker Champion, winning £3,750 and a seat in the 2007 WSOP
Ed note: Download Everest Poker and we'll top up your account with an extra $50