Tournament Director: APAT Event No.2 at Aspers Casino, Newcastle

Mel Lofthouse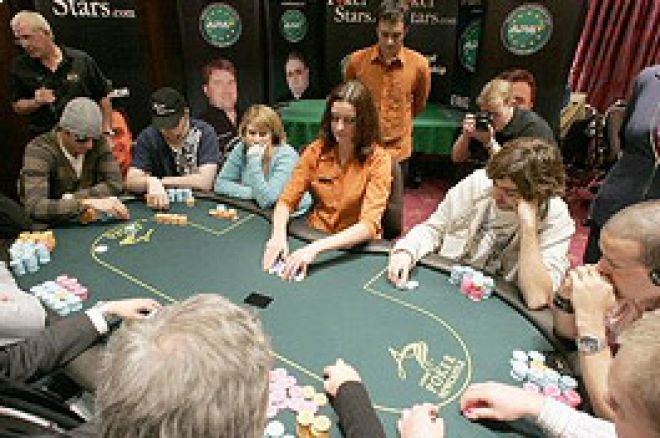 The first event for APAT, held at the Broadway Casino in Birmingham, was a roaring success. So, in my eyes, event 2 had to follow just the same!
I drove to Newcastle the day before the event on the Friday, checked into the hotel and then walked up to Aspers Casino, The Gate, Newcastle for their evening freezeout tournament. However, when I got there, it was already full because their usual capacity of 210 had to be chopped to 100 for their Christmas party, which was just about in full swing.
Aspers have two of the new "Pokerpro" machines which are a great idea to somebody who has only really played on the internet. But, to a seasoned cash game player, ie: me, who likes the feel of chips and the cards and loves chatting to people at a poker table, its not a great concept. It's more like playing online and the beats are the same. Whilst I was there a straight flush was dealt and you don't see many of those!
Our tournament was due to start at 2pm on the Saturday but, with 210 newly registered players to Aspers, we anticipated a start time nearer to 2.30pm so that they could all get registered in time. So, bang on 2.30pm, Tony Kendall and all the 210 runners did a countdown from 10 to 1, then it was time the shuffle up and deal.
APAT had sold all the seats to this tournament about 4 weeks before the event started and could have sold about 200 more!
The event started with 10,000 chips and a 40mins clock. The 25/50, 50/100, 75/150 and 100/200 levels encouraged creative play early on in the event.
The first person out, after 3mins and 25seconds, was a guy who had run his AK in Aces but had a flush draw too. However, he wasn't to know that the aces would have hit nut flush!
My 1st and 2nd rulings were the same. They were on different tables but within about 3 minutes of each other. Basically, the scenario was that 1 person raised, everyone folded around to original raiser and who had thrown his cards to the dealer and dealer had mucked all cards. However, there was a person to speak and his cards were still live, he was still to take action. So, the person with the live cards after making the appropriate action won the pot. It's an easy mistake to make and I don't think that the people involved will make the same mistake twice!
Level 14 was the last level of the day. We were surprised that from the 210 runners, we only had 24 runners coming back for day two.
Day two started and 24 runners were soon down to 20 after only an hour. I asked the dealers to stop dealing as we were breaking for 2 tables, but a dealer didn't hear me and 2 players had got involved in a hand. The hand shouldn't have been played in the first instance and had to be voided with the chips given back to players.
Down to 10 runners and final table took longer than I had anticipated. The finalists were:
·    Leon Rossiter (Liverpool) — 237,000
·    Max Ward (Manchester) — 135,500
·    Tom Hunter (Birkenhead) — 141,500
·    David Groom (Scarborough) — 123,000
·    Ben Passantino (Worcester) — 310,500
·    Steve Lacey (Gosport) — 212,000
·    Ray Norton (Wallsend) — 354,500
·    Adam Spratt (Cambridge) — 269,000
·    Steve Talbot (Blackburn) — 169,000
·    Vicky Glynn (Edinburgh) — 160,000
Eventually we were heads up and a cagey battle between Steve Lacey and Max Ward ensued. Chip leads were going back and forth on a regular basis!
The final hand was Max Ward's A3 vs Steve Lacey's A10. A 3 on the flop sealed Lacey's fate.
It was a great battle between the two players. Good luck to Max Ward who, in addition to winning £3750, also received a seat to the World Series of Poker 2007. Not bad for £75 entry fee!
See you all at Event three, which will be announced in the next few weeks.
Merry Xmas and a Prosperous New Year to you all.
Ed note: Keep your poker bank roll in the sunshine by downloading Sun Poker and picking up a monthly $100 bonus