Grosvenor Walsall Midland Masters: Main Event Report

Richard Prew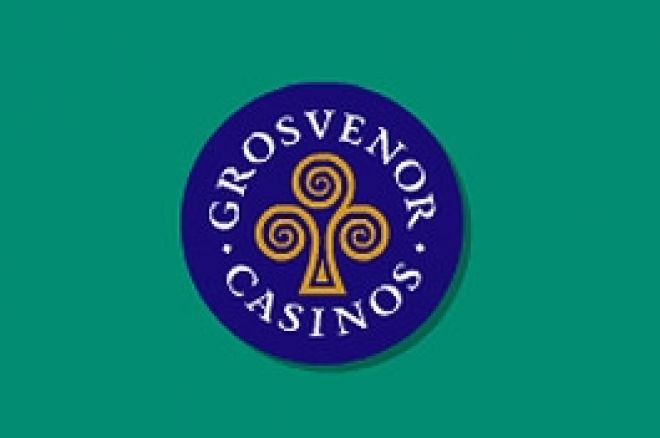 A hugely successful week, with sold out side events from Tuesday onwards, concluded with the £1,000 buy in No Limit main event as the UK festival circuit continued its hectic schedule through to the end of the year. The event attracted 133 runners including six of the current top ten in the race to top the William Hill European Rankings at the end of 2006: Ash Hussain, Julian Thew, Mickey Wernick, Ian Woodley, Paul Jackson and Iwan Jones.
The event was structured as a 6,500 chip double chance event and the traditional one hour clock. Like Blackpool the week before the "filler" blind levels early on were missing, possibly unsurprisingly on this occasion with the players having 13,000 chips at their disposal.
A very early chip leader was the aggressively talented Julian Thew, eliminating Ian Herbert on a 5 3 3 flop. Herbert Held A3, Thew had raised with 53! Nearby, ultra aggressive Ali Mallu suffered a rare early exit. He raised with the speculative J5, was called by Martin Cavanaugh in the big blind with pocket threes and all the money inevitably went in following the 553 flop. Soon afterwards serial festival winner Mick Fletcher departed as he bet every street on a 66xxx board only to muck his hand on being shown Nick Slade's quad sixes post river.
Quads were to be a surprisingly frequent feature of the first day's action. Martyn Cavanaugh flopped back to back quads with pocket sevens then pocket fives to put him up with the leaders and then Lucy Rokach found a spectacular 6QQ flop for her pocket ladies. Even better, Andrew Bradshaw pushed his stack in with pocket Kings after Lucy bet out.
With the first day complete 35 players remained led by the said formidable Lucy Rokach - who had seen a return to UK tournament form by winning the £500 main support event on the Thursday before the main event - with a staggering 222,000 chips (blinds to begin the second day at 800-1,600) followed by Luton's Rob Garfield on 139,000, recent Asian Tour event second Jeff "Jaffacake" Kimber on 133,000 and the avuncular Joe Grech with just under 100,000 chips. In the pack from 70,000 chips downwards was a star studded field including Woodley, Hussain and Wernick. David Wernick that is, Micky's son.
At the start of Day two, fireworks began very early. Local legend Ash Pervais managed to get his entire stack to the middle pre-flop with AA against John Huckle's KK in a 160,000 chip pot. However fate construed that a trip King hit the flop to eliminate Pervais and push Huckle towards Rokach's chip lead.
Lucy was playing her big stack fast. In fact during the first two levels of the second day her stack halved as she bullied and bluffed, made aggressive calls of short stacks and raised relentlessly. However these setbacks were to prove short lived as the field moved towards the bubble the players on her table knew that each time they entered a pot they were potentially to be asked to play for all their chips as Lucy played a wide range of hands, re-raising with abandon and restoring her chip lead as the final approached. Rokach apart, the chip leaders had remained similar all day with Garfield, Kimber and Grech holding steady. Local player Lisa Scotney had hung on shortstacked all afternoon and made it as far as the bubble when she found AA to Cavanaugh's push all in with AK. This ensured we had two ladies make the final table and Scotney's patience was rewarded.
The final table line up saw Lucy Rokach with 473,000 chips ahead of Kimber with 254,000 and Garfield with 247,000. Also in the line up were youngster Dan Carter, Ian Woodley, Joe Grech, Lisa Scotney, G Zaib and shortstack John Huckle who had lost the majority of his stack to Rokach through the afternoon. Blinds were 4,000/8,000 as the nine players set their eyes on the £51,000 first prize.
It was to prove a long, attritional final lasting well over five hours. First to go was John Huckle in ninth losing a race with pocket fives to Carter's suited Ace. Carter himself was then very unfortunate to see Garfield spike a Queen on the river to virtually eliminate him in an AK versus AQ battle and he departed in eighth soon afterwards. Joe Grech then re-raised an early position raiser all in with AQ only to find Zaib sitting on Aces in the big blind to eliminate him in 7th.
Ian Woodley then bravely re-raised Rokach all in with pocket sixes. Rokach made a gutsy and correct call with pocket eights to see Woodley fall in sixth. Then in a key hand Jeff Kimber was all in pre-flop with AK versus Zaib's pocket jacks in a 400,000 chip pot. The Jacks held up to send Kimber away in fifth and propel Zaib to challenge Rokach's long standing chip lead.
Four handed the two larger stacks began in control. However matters soon evened up when Lisa Scotney doubled up off Rokach with A8 versus AJ on flopped and rivered eights for trips and Garfield doubled through Zaib having subtly trapped his opponent by limping with Aces pre flop. Play from then on took a long while and Rokach in particular was unable to see the others off. After ninety minutes of vacillating chip counts the players began to talk about a deal.
Lengthy discussions concluded with Rokach taking £37,000 and Garfield in excess of £28,000 ahead of Zaib and Scotney. In essence the players each took 4th place money and split the rest according to proportional chip count. Following that, the tournament was played out swiftly with Zaib 4th, Rokach 3rd, Scotney second and Rob Garfield achieving by far his biggest result as the Midland Masters champion.
Ed note: More titanic poker can be yours with a free $50 cash gift when you download Titan Poker with the Poker News code UKPNEWS