Victoria Coren: Introduced and Interviewed

Nicky O'Donnell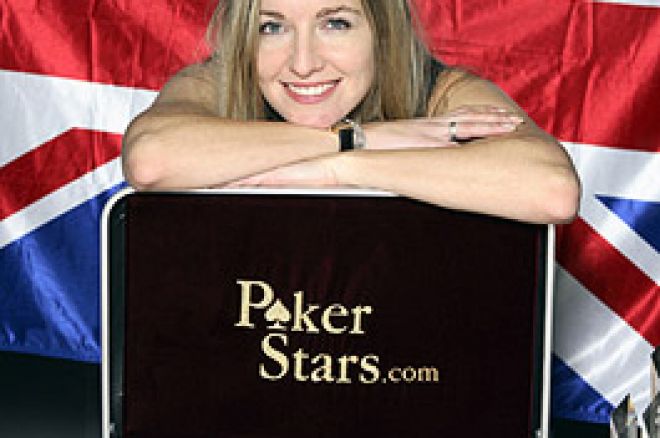 When I sent Vicky my congratulations on her win at this year's London EPT, she said something to me that stuck in my mind, which showed exactly why she was such a popular winner.
"…the most important thing to me, much more than winning, is to try and be a fairly nice person whether winning or losing and do both as gracefully as possible"
Vicky was an icon for the UK poker scene even before she became a European Champion and was nominated player of the year. She appeared five times on the original Late Night Poker, the show that is still the benchmark for all poker shows with a Sit 'n Go format, and the first poker show ever to use under the table cameras. She now presents the latest series, Late Night Poker Masters, which returns with commentator and poker icon in his own right, Jesse May, many of the original characters and some interesting new ones.
As someone who has gone on to make a living from poker, it's not a stretch at all for me to say that since Late Night Poker was the show that kicked off my love of the game then many of the players on that show including Vicky played no small part in changing my life and the lives of many other young men in the UK and Ireland who chose the same path.
Apart from being a great poker player, Vicky is also a talented journalist and author and in fact comes from a family of several talented writers. Unfortunately, I am simply not a good enough writer to produce a piece on Vicky that will do her justice so instead I decided to ask her if she'd do an interview. When she agreed to take time out from her incredibly busy schedule to answer a few of my questions for UK Poker News, I wrote so many that it would have taken her until Christmas to answer them. I reduced it to an even ten and here they are:
Nicky O'D: Barny Boatman once called you the real fifth Mobster. When did you first meet the Hendon Mob and how did you become friends?
Vicky C: I knew Barny and Ross for years because we had mutual poker-playing friends, not very well but I always really liked them. Then I met Joe at the filming of Late Night Poker in 2000 and we went out for a while. At that time, the boys were starting to think about doing something as a group, trying to get sponsorship. I thought they had fantastic appeal, and I wrote a story about them for Esquire magazine, which was a piece of writing I still really like. I hope it played a tiny part in cementing their decision to launch the Hendon Mob. Their vision has been so great for European poker, I'm very proud to be their friend.
Nicky O'D: Which player has had the biggest influence on your poker career?
Vicky C: Undoubtedly that would be Hugo "The Sweep" Martin. I've been playing in a home game with him every Tuesday for ten years, which is the bedrock of all the poker I play. And without him, I would never have dared to go into the card room at the Vic. It was kind of scary back then, before poker was so accessible and familiar to everybody, and it was even more male-dominated than it is now. Without a friend in the room, I think I would have stayed out on the casino floor for ever, staring nervously through the glass and playing roulette (The Vic should probably bar him for that. I did my brains on roulette). I would also say that every serious European player has had their life changed by the brilliant John Duthie, who created a tour that brought Europe right in line with America and will soon overtake it. Apart from thinking John's wonderful anyway, the London leg of the EPT 3rd season has had a pretty big influence on my poker options!
Nicky O'D: You appeared five times on the original Late Night Poker, and now you're presenting the new series. Did appearing on the show help to elevate your career as a poker player / TV presenter?
Vicky C: I don't know really. I was invited to play first as a journalist, and then they asked me back because they wanted a mixture of people and female players were so hard to come by. Nobody casts televised poker tournaments like that now - choosing different characters for a variety of reasons; it's always a case of winning your way through, or being invited on the basis of tournament results. But I think that original method worked well, gave the LNP series some narrative and accounted for a lot of its appeal. As far as "elevating my career" goes, I think my TV poker work came more from the fact that I write a lot about the game, and when I do other TV stuff the poker has nothing to do with it! But on those early series I did form a relationship with the lovely people at Presentable Productions who make Late Night Poker, and many other poker shows, which continues to this day, I'm very glad to say. And I went back to them later as a commentator so, in that sense, yes, it was affected by having played on the early series.
Nicky O'D: Will Late Night Poker continue after the current Masters series finishes and will you be playing at some point?
Vicky C: I don't know if another series is planned yet, but I should think, yes, there will be one. I don't know if I'll play in it. It depends whether I'm invited and how much the buy-in is! But if I end up presenting it again then it might be weird to play as well, so maybe not.
Nicky O'D: Are you still a writer first, poker player second or was there a point in your life when that changed?
Vicky C: No, that hasn't changed. But what's with all this defining anyway? People are too quick to pin themselves down as "professional poker players" these days. One of my heroes has always been Al Alvarez who is a journalist, author, editor, poet, mountaineer, poker player and family man. Now, in his seventies, he can look back on a life filled with variety and adventure, hopefully with plenty more to come. Everyone should have the ambition to live their days on earth with that much curiosity and vigour. If poker is your main source of income, great, but it should still take its place among all the other adventures there are to be had.
Nicky O'D: What was "Once More With Feeling" all about?
Vicky C: Oh please... Don't make me talk about that sort of thing here! Having said that I think it's good to pursue adventures; I had a fairly intense one with my friend Charlie and a lot of beautiful hookers and porn stars in Amsterdam and Hollywood, and we wrote a book about it. That was "Once More With Feeling". If people want to know more then I'd be delighted for them to buy a copy - still available on Amazon or from all good bookshops! And I'm sure we still get 2p for every 90 copies sold. And if they don't want to know then I'm certainly not going to, er, shove it down their throats. But I can promise any prospective purchasers that it has a lot of sex in it. It isn't FLAWLESS sex, but it's certainly there. Welcome to my life...
Nicky O'D: Do you think you could live with a man who didn't like poker?
Vicky C: Absolutely I could. In fact it would probably be a lot healthier than living with one who did! I've given the question some thought before, and my instinct is that I could have a lovely time with a guy who loves poker as much as I do, or with a guy who knows nothing about poker and could happily leave me to get on with it. But where I'd have a real problem, I think, is living with a guy who played a lot of poker but just wasn't very good at it, you know, 'a star', someone who was always losing the housekeeping by drawing to a straight on a flushing board. I think that could make for an awkward dynamic. Fine in a friend; probably not a good idea in a boyfriend. It might stop me gazing at him with admiration and reverence, which is how I like to look at boyfriends!
Nicky O'D: Despite your success, has poker ever had a particularly negative effect on your life?
Vicky C: No. It's all good. I try to have lots of different things in my life, but in all honesty, without poker, I don't know who or where I'd be.
Nicky O'D: I once played against a female player in a low cut top that put me totally off my game, so much so that I couldn't breathe and folded every hand for 2 hours through fear of busting out (emm…. of the table) and leaving her presence (I nearly folded Aces preflop!). Have you ever used your good looks to try and gain an edge over a male opponent at the poker table, and likewise have you ever been put off by an attractive male poker player? If yes who was he?
Vicky C : (exclaims) Thanks for the compliment which is tucked in there, but no of course I haven't. It's not like it would work anyway. I'm a perfectly normal looking girl - nobody is going to crash cars or pass aces just because I'm sucking a pencil. And I've never been especially put off by an attractive male player (nothing is as beautiful as a good flop for my hand), although if a guy is very macho then I sometimes feel awkward about winning pots off him, especially if it involves making a good call of a bluff. I don't want to hurt anyone's pride, that's just unfortunate collateral damage of the game sometimes.
Nicky O'D: Finally, If you could do one thing to improve the UK poker scene what would it be?
Vicky C: Ummm... that's a tough question, but I would love the big fish at Grosvenor to really support poker at the Vic as much as it deserves, cherishing it as much as the table games, hiring more dealers, paying them a great salary, opening up more tables in the card room, knocking the competition into a cocked hat and making poker feel a real priority like it does at the Wynn in Las Vegas for example. It's possible that a Gaming Board change to allow tipping would be a big improvement, as the casinos could get away with paying less money for more dealers but those dealers would still get really well rewarded for the work. I love the Vic and I will always recommend it, but I feel it has untapped potential, and it would be wonderful to see serious poker aficionados at the very top of the chain.
Footnote:
Vicky has been nominated in two categories in this year's European Poker Awards, which will be held at the Aviation Club de France, Paris on December 9th and 10th. Good luck to Vicky at the awards and her future endeavours. UK Poker News and Nicky O'D also thank Vicky very much for her time!
Ed note: Play late night poker and earn a free trip to the Aussie Millions. Download 888 Poker to win this 16th December Special Freeroll and the $12,000 Package Down Under in January!