UK Poker News Editorial: Underground Poker

Paul Sandells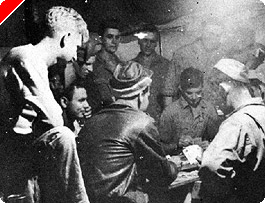 New casinos and poker rooms are popping up all over the country right now. With a vast number of poker home games and private 'underground' poker clubs running nightly games, the British poker player has never had it so good.
As a poker player I've visited an array of different casinos and card rooms in the last couple of years. Many follow the same tried and tested formula for their poker activities: A card room of between 50 and 120 seats, No Limit Hold'em tournaments (mostly rebuys), Pot Limit cash games and plenty of nearby casino games to tempt the gamblers. This can be somewhat boring for the regular player after a while. However, if you're becoming a little tired of your regular haunt, don't despair, for the enthusiastic poker player can find many privately run games in the U.K which offer far more than the every day casino experience.
Last night, or rather mostly this morning! I spent my time at one of the more famous private poker clubs in England. This establishment, in my humble opinion, is a gem but boy was it tough to find! If you're ever welcomed with a drink when you arrive somewhere, whether it be a hotel, resort or in this case, a private poker club, you know you've arrived at a place of quality where you'll be taken care of.
As I sipped my soft drink and awaited the other players to arrive for a small tournament, I surveyed the surroundings of the club. The reception consisted of a pool table, bar, sofa and television. You could describe it as a 'games room'. The playing area is adjacent to the reception. Both rooms were brightly lit, clean and spacious.
After five hours our nine handed sit & go was complete. Five hours of expert dealing, good natured table banter, indian take aways and bacon sandwiches resulted in a very satisfacory evenings entertainment for your Editor. Yes, the deck hit me in the face and I won the tournament, but moreover it was such a refreshing change to play in a relaxed, non-casino environment with like minded people. Everything here is pretty much perfect for the poker player.
Naturally, I can't reveal the name or location of this club. However, I will be trying more establishments like this in the near future. Underground poker no longer means dark, dingy backrooms where you might be gambling with more than just your money. Many of these places cater for poker players much better than the licensed casinos. With great comfort, more attention to detail and tournament structures that would embarrass even the largest casino chains, the future for these 'underground' clubs looks very bright indeed.
Ed note: Get your bank roll refreshed with $50 TOTALLY FREE when you download Titan Poker