UK Poker News Weekend

Nicky O'Donnell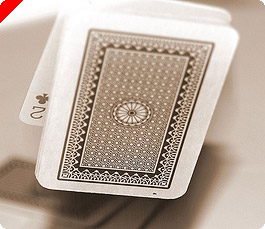 The latest Bond movie, a remake of Casino Royale, in which Bond plays a high stakes Texas Holdem poker game, hits the big screen this week. Before seeing it I thought about how some hands might play out. Maybe Bond makes an amazing sick call with Jack high and wins… or lays down Kings against Aces pre-flop because he can see into the villain's soul! I mean he is James Bond after all. He can dodge bullets baby!" Well, Phil Hellmuth he aint. James Bond is nothing but a total luck-box.
Before I went to see the movie (this is the spoiler for those of you who care) I knew exactly how the game would play out. He'll take a big hit early on when he gets unlucky with a big hand or misreads his evil opponent, but he'll grind his way back into the game before eventually winning with some sort of ridiculous monster hand that would never happen in a real poker game. Bond may be the best player in MI6 but just how good do you need to be to play the stone cold nuts when 3 players push all-in in front of you?
Rounders is still the most popular poker movie ever made but I just don't know which movie is more unbelievable. A depressed Matt Damon resisting the advances of Famke Jansen in stiletto pumps and an ass high micro dress (What would James Bond have done there?) or Canino Rayale, where Bond hits a straight flush against a player with the nut flush and two players with full houses. Give me "A Big Hand for a Little Lady" any day. Now that's a real poker movie.
If you go do to see Casino Royale this week, pay no attention to the poker game, but if like me you are also a big Bond fan it's still worth seeing. There's a torture scene that will make it hard for any grown man not to leave the cinema walking like John Wayne. Bond ends up holding the nuts, in more ways than one.
In the real poker world this week the Betfair Asian poker tour kicked off with its inaugural event in Singapore. The final table of ten players played to a finish on Friday. It featured Tony G, and fellow Aussie Lee Nelson. England's Jeff Kimber and Irishman Brendan Walls, who won the Irish poker final back in January for €135,000, are also both in contention.
Here are the Friday chip-counts.
Samuel Lehtonen - 897,500
Tony G – 717,500
Ang Pang Leng – 309,000
Lee Nelson – 257,000
Hans Vogl – 250,500
Jeff Kimber – 240,000
Brendon Walls – 243,000
Mark Wheat – 101,000
Neil Yong – 98,500
Henrik Dahlgarrd – 74,000
This event is the largest ever poker tournament to be held in Asia and the first to ever be held in Singapore. More than 370 players have paid the $5,000 buy-in for the Main Event. and first prize will be a handsome $451,000. The total przepool looks to have exceeded $2 million.
Nominations for the European Poker awards sponsored by upperclasspoker.com were released this week. All the nominees are invited to the ACF, Paris for the weekend of December 9th-10th when the final judging and presentations will take place. Surprise inclusion for the rookie of the year was Irish Open winner Vincent Mellin.
It's hard to see how anyone could be chosen as European player of the year ahead of Roland De Wolfe. His record through 2006 is really astonishing. Victoria Coren is also nominated in two categories, Player of the Year and Most Notable Tournament Performance, for her win at the London EPT. Stay tuned to ukpokernews.com for an interview with Vicky later this week.
Here is the full list of nominations for the European Poker awards.
Rookie of the Year:
Richard Toth(Hungary)
Erik Friberg ( Sweden)
Mats Iremark (Sweden)
Vincent Melinn (Ireland)
Juris Bonders (Latvia).
Most notable tournament performance of the year:
Vicky Coren(Eng)
John Gale(Eng)
Erik Friberg (Swed)
Roland de Wolfe (Eng)
Christian Grundtvig (Den)
Player of Year:
Roland de Wolfe(Eng)
Vicky Coren (Eng)
John Gale (Eng)
Arshad Hussein (Eng)
Dave Colclough (Eng)
Casino staff person of the year:
Thomas Lamatsch (Aust)
Thomas Kremser (Aust)
John Duthie (Eng)
Tiina Korpela and Sirrka Liisa Rinta (Sweden)
Roy Houghton (Eng).
Lifetime Achievement Award:
SECRET. To be announced on December 10th at the ACF presentation dinner.
Ed note: Qualify for a seat at the Aussie Millions for free when you download 888 Poker and play in our Team PokerNews freerolls