Strip Poker Champ Challenges James Bond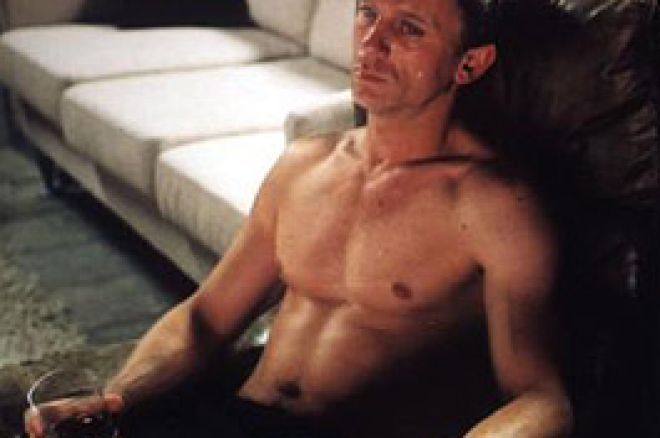 The World Strip Poker Champion, Jon Young, has challenged James Bond star, Daniel Craig to a daring strip poker game. Journalist Young is so confident of victory that he will put his title on the line, but will Bond accept?
A burly, hairy Englishman challenging the super spy to a game of strip poker is hardly likely to make the plot in the next Bond movie. However, Daniel Craig has had this challenge made to him for real. Jon Young, the World Strip Poker Champion, is ready to get naked again to take on 007 anytime, anyplace, anywhere the suave spook wishes.
Young said, "There is no higher stakes in poker than the shirt of a man's back. Bond rates himself as a bit of a shark at the poker table but I want to prove it's all posturing and that underneath that glacially cool exterior lies a big scared-y cat who'll c**p himself at the first sight of a REAL poker player. It's just a shame 007 isn't a woman."
Young released his challenged through a press release via the Irish online poker giants Paddy Power Poker, a poker room he frequented to hone his skills for the World Strip Poker Championship earlier this year.
The journalist carried on his Bond baiting as he concluded, "I'm so confident I can outplay these shadowy super-spies I'll let Connery, Moore, Dalton, Brosnan and Lazenby into the game too. I mean, c'mon, with such a bunch of lady-killers sat around one table gambling for such impressively high stakes the ladies are gonna be shaken AND stirred. Especially the Bond girls the boys will no doubt bring along for the post-game party."
"Craig can get Miss Moneypenny to give me a call on the secure phone to arrange a time and place for the game. I hope it's in a giant secret volcano or a shimmering underwater lair but if he wants to come round to my house that'll be fine too as long as the girlfriend doesn't mind."
"I've even started working on my killer lines: "Do you expect me to raise? No, Mr Bond I expect you to fold!', and 'Will the Diamonds be Forever? I don't think so Mr.Bond!'. Should they fail to sufficiently unsettle him I'll get my third nipple out. It's much scarier than Scaramanga's – I'm getting a laser fitted next Wednesday y'know."
Daniel Craig has yet to respond to the challenge. Perhaps the new Bond is more concerned with the forthcoming London premiere of his movie, Casino Royale. The movie opens at Odeon Leicester Square in London on November 14.
Jon Young beat 195 other strip poker players to become the World Champion in this poker "discipline". The event was recorded as the largest strip poker tournament in the world to date.
Ed note: You can keep your clothes on and still play at Paddy Power Poker for a $500 new player bonus