Speaking the Quintessential Language of Purple Lounge Poker

Tony Bromham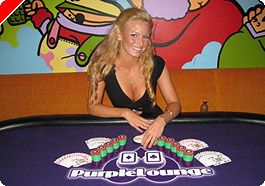 London-based Purple Lounge Poker continues to spread the word across Europe and beyond. Already a popular poker room on the heavily-used Microgaming Network, Purple Lounge has now made its website available in seven widespread languages to make playing so much easier for everyone whatever their nationality.
Purple Lounge's poker software is now available for download in four separate languages while three further languages are available for viewing. The poker software can be enjoyed by all players in French, Spanish, Italian and English languages. Viewing is also available in Japanese, Chinese and Turkish. Purple Lounge is proving especially popular in all countries where these languages are spoken and this is undoubtedly because the company has some unique offerings for its European and Asian players.
Take this for example: Purple Lounge has excellent connections with an organisation called Quintessentially whose main aim is to satisfy any last-minute requests for people seeking a slice of the high life. How about front row seats at fashion shows? What about "spur-of-the-moment" chartered yachts, or impossible-to-book theatre tickets and dinner reservations? Then there are benefits like automatic access and exclusive privileges at the finest gyms, spas, restaurants and nightclubs around the globe. Quintessentially's travel department is packed with globe-trotting knowledge and can get you the best hotels, villas and even private islands, often with money-saving discounts.
Show us another online poker room with these connections!
Purple Lounge Poker can get you membership simply through being a loyal player at its poker room. The Quintessentially network and all its benefits are available across the globe, with offices in London, Manchester, Dublin, New York, Miami, Los Angeles, Hong Kong, Johannesburg, Cape Town, Dubai, Istanbul, Beirut, Kuwait, Moscow, Cannes, Oslo, Helsinki, Copenhagen and Stockholm. Plus they have "fixers" and research teams in most other major cities. New offices are due for opening in Saudi Arabia, Qatar, Bahrain, Thailand, Geneva, Athens, Chicago and Las Vegas.
Membership of Quintessentially is usually the preserve of the corporately well-heeled but Purple Lounge Poker offers it to you simply for being a regular at their poker tables. Once a member you can travel to poker tournaments knowing that your entertainment can be taken care of in a phone call.
Membership also includes the Quintessentially magazine, the Quintessentially Wine Club and the exclusive Quintessentially 'Beyond Black' credit card. Members are continuously kept up to date with what's hot and what's not through regular newsletters, offering indispensable advice on all the essential events of the moment, top tips, money-saving offers as well as exclusive invitations to charity events, gala balls, shopping evenings, film premieres and VIP after-parties. Members also have privileged access to an online events calendar which lists the hottest happenings around the globe, including concerts, festivals and sporting events.
If you want this, you want Purple Lounge Poker, whatever the language!
Ed note: Get your Quintessentially Membership by downloading Purple Lounge Poker and earn $1,000 in deposit bonus!