Northern Open Main Event at Grosvenor Blackpool

Richard Prew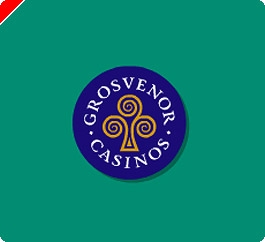 A hugely successful week at this most popular of festival venues in the UK, with sold out side events, climaxed with the £1000 buy-in two day main event. This attracted a near sell out 163 runners fighting over £163,000 in prize money and a first prize of £48,900. All the major festival names were in attendance and were joined as usual by a whole raft of locals satellite-d in via the range of entry opportunities offered in the weeks prior to the competition.
Structure wise this was one of the faster of the Grosvenor main events with the absence of both the 75/150 and 150/300 levels. This is slightly unusual in an era of card-rooms looking to provide value for players and listen to their opinions which for this cost tend to favour slower structures with these extra levels compared to quicker events.
From the outset of the event Jon "Skalie" Kalmar took the chip lead, finding Aces against Kings on the second level. He then called a raise in position with 56, saw a flop of 34x and eliminated a player holding a set of fours when a 2 arrived on the turn to give him the straight. Elsewhere successful Blackpool resident Simon Zach was in early contention as the field began to thin quickly a few levels in.
At the end of Day 1 37 players had survived the first day's proceedings and Kalmar was joined at the top of the chip leaderboard by the ultra consistent festival winner Sid Harris, the aggressive youngster JP Kelly and regular festival participant Matt Tyler. Elswehere the remaining field was star studded including Ash Hussain (top of the European Rankings), Keith Hawkins (Amsterdam finalist), Grosvenor Grand Prix Winner Zahir Aslam and Micky Wernick.
Early on in the second day's play, as short stacks were quickly eliminated only one short stack survived, the ultra patient Micky Wernick who first doubled up with AQ versus a pair and was to show consistently through the day his adhesive qualities. Elswhere JP Kelly gained early chips in a big pot with Alan Mclean where both flopped trip Kings, Mclean being out-kicked with his 9 to JP's Jack.. JP then doubled up 21 year old Sunny Chattha who rivered a set of fours to defeat Kelly's AQ, all in pre flop. Kelly continued in aggressive style, making one particularly fine river call with 4th pair (and a missed flush draw) to beat his opponent's bluff.
Simon Zach's fine run ended at the hands of Sunny's brother Chaz Chattha who flopped a set of nines versus Simon's pair and straight draw which missed. Near the bubble Micky Wernick's patience (he had fallen to well below 10x BB with 20 players left) was rewarded when he found himself in the classic Hold Em confrontation versus JP Kelly's AK and flopped a third Queen. Jon Kalmar was eliminated one before the bubble having played in full aggressive mode all day and then Joe Grech assured himself of a final place with a superb call of Sid Harris' all in (holding K9) on a K5Q board, with KQ. Harris exited shortly after in 10th.
The final table provided a fascinating mix. The experience of Grech and Wernick offset by the youth of the Chattha's and Kelly, with Niamh Peters representing the ladies and Matt Tyler railbirded by a noisy Northern contingent.
Niamh Peters was extremely unlucky to be the first finalist to go out, all in pre flop with AQ off versus Grech's AQ of Clubs which hit the nut flush on the turn. She was followed by Mazhar Nawab, running KQ into Wernick's AQ and Matt Tyler losing with QQ versus Wernick's AK. When Mark Greenwood departed in 6th, his 33 no match for Wernick's pair of tens, Wernick had cut a swathe through half the final field to put himself level on chips with Kelly and Grech but all well behind the Chattha brothers.
Five handed the players jostled for supremacy showing contrasting styles. JP Kelly remained aggressive whilst Wernick sat and waited having put himself in position. Eventually as the blinds began to catch up with the stacks Grech made his move with KJ and ran into Chaz Chattha's A5 which held up when both missed the board entirely. JP Kelly then made one move too many, going all in over the top of Sunny Chattha's raise with 10 8 and when called finding himself dominated by 10 10 to leave in fourth. Wernick's great run then ended when his two suited paint cards fell to Chaz Chattha's Ace.
We then saw an unprecedented situation with brothers ( 24 and 21 years old )contesting a major UK festival. Sunny Chattha triumphed after a short battle when both paired the board on a flop to be crowned the Northern Open Champion for the full first prize, no deals.
Ed note: Download 888 Poker and win your free seat to the Aussie Millions