Maharajah Club Looks East

Tony Bromham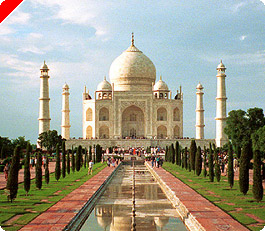 Maharajah Club is a London-based online poker room with a specific focus on the Asian market, and now it has just launched a play-for-fun gaming site in India, MaharajahClub.net.
Maharajah Club is the first online gaming site to specifically target the Asian market in the UK, Europe and South East Asia, and it now says that, following the recent law changes to online gaming in the US, it will "…use its strong cultural relevancy and team of experts to make its mark in Asia".
Maharajah Club goes on to say;
"India boasts one of the most rapidly growing economies in the world with highly educated affluent communities expanding at astronomical rates, a familiar environment for the gaming community. Poker is a very new recreation among India's middle-classes and could follow other pop culture trends as an example of the way Indians strongly embrace western pastimes and passions.
"As the first online gaming site to aim its launch towards the Asian market, MaharajahClub.net brings the fun side of gaming to India.  Their new play-for-fun site will help grow the game on the continent by teaching first-timers how to play and increase poker's widespread appeal among beginners and seasoned players alike."
As a show of support to India, Maharajah Club will be sponsoring the first major professional poker tournament to be held in India, the Asian Poker Classic which will be held at The Grand Resort, Goa, India from 1st March to 4th March 2007. This major event will offer a guaranteed $1,000,000 prize pool.
Maharajah Club has also already involved itself with Indian culture by supporting a "Bollywood"-based TV show and a sporting website at MahaCricket.com, an Indian cricket website.
The Chief Executive Officer of Maharajah Gaming, Sachin Pawa, said;
"This is the first time an online gaming company has targeted an audience based on ethnicity. It happens in land-based casinos around the world. By targeting ethnically, we can cater to the culturally specific needs of our clients in a way that no other casino on the net can."
Maharajah Club is a South Asian owned business operated by Maharajah Gaming and licensed by the Gaming Commission of Curacao, Netherlands Antilles. MaharajahClub.com is powered by Swedish quoted company Boss Media AB, a leading e-gaming software and solutions provider.
Ed note: Go to the Far East and beyond. Play at the Aussie Millions for free by downloading 888 Poker and enter the special Poker News $12,000 freerolls!