Ladbrokes Poker; Children in Need; and the Poker Million!

Tony Bromham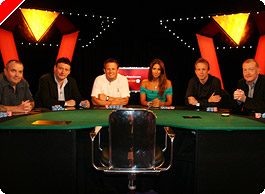 Roll up…Roll Up…Only $5 to play! Here is the poker game where you cannot lose! The BBC's annual Children in Need campaign is in full flow and Ladbrokes Poker is giving you the chance to win a night at the prestigious Poker Million V Final dinner.
Ladbrokes Poker is hosting an online charity poker tournament tonight (16th November) starting at 20:30 GMT to raise much-needed funds for this popular charity. Not only is it your money that goes into the kids' coffers but also Ladbrokes Poker's cash, as they are committed to matching the players' donations up to the grand sum of $5,000!
Several familiar sporting celebrities have been invited to play the tournament which will cost you a mere $5. There is also an option to re-buy chips for half price if a player loses them early on in the game. All of the money will be donated to charity along with Ladbrokes Poker's own generous overlay!
The winner of this event will win a very special prize indeed. This is a pair of exclusive VIP tickets to the Ladbrokespoker.com dinner and overnight stay at the prestigious Marriott Hotel in Grosvenor Square, London, on 15th December to watch the televised Poker Million V finals. This is a prize worth over £1,000!
In addition, the top three contributors to the charitable cause in this tournament will win Ladbrokes Poker chip sets and everyone else will feel pleased to have contributed to a worthy cause!
The Managing Director of Ladbrokes eGaming, David Briggs, says;
"It's a win-win scenario; players get to support a very deserving charity and at the same time can enjoy pitting their poker wits playing against top ranking European poker players. You never know, you might find yourself playing against poker playing sporting personalities and celebrities and pick up a few tips along the way in this unique tournament!
"This charity tournament proved very popular with poker players last year raising $2,500 for Children In Need, which Ladbrokespoker.com matched and we're hoping this will be doubled this year. It's something that the staff was keen to organise again. It's a bit of fun in the name of a good cause. This is an opportunity for everyone to give something to a cause that cares for the future, the children!"
Ed note: Give generously tonight to Children in Need. Download Ladbrokes Poker and win a seat to the Poker Million V dinner!