James Bond's Premiere Poker Performance!

Tony Bromham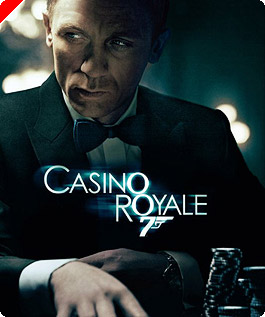 Her Majesty Queen Elizabeth II was there; as were many of her subjects, including the very British Elton John, and Mr Bond himself, Daniel Craig. Other celebrities from around the world included personalities from show-business such as Sharon Osborne and Paris Hilton, strutting their stuff along the red carpet at the tremendous event that is a "Bond Premiere". They don't come along too often so "enjoy them while you can" seems to be the motto.
Amongst those absorbing the razzmatazz and glitz - not to mention the premiere showing of "Casino Royale" at Leicester Square, in London's West End - were some privileged guests of Purple Lounge Poker, the London-based, fast-growing online poker room that specialises in providing opportunities for its players to experience the worlds of entertainment and leisure. These privileged guests included none other than Poker News' own Australian double agents, Gareth Edwards and Cory-Ann Joseph who had flown here halfway round the world to get away from the build-up to The Ashes, and to catch a movie!
After the performance, Gareth was quick to praise the movie and also the surprisingly realistic portrayal of an ultra-high stakes game of No Limit Texas Hold'em Poker that forms a vital part of the story. Gareth spared a quick word on his way to the bar:
"It was an amazing experience being part of the glitz and glamour of a world premiere such as this. A lot of stars were there too and it was a huge event altogether. Much bigger than I imagined it would be!
"Without giving away too much to people, the movie was centred round a high stakes No Limit Hold'em single table tournament. A 10 million buy-in with one optional 5 million rebuy meant a potential 150 million for the winner-take-all prize! From a poker player's perspective, the standard of play was good (even with some minimum raising in a no limit game) and the characters were smart enough to plant fake tells to trap their opponents. Somewhat surprisingly, the poker action in the movie was technically correct with the rules and procedures.
"The story goes back to the first book written in the '50's and gets away a bit from all the gadgetry you normally associate with the more recent Bond films. It makes a nice change and gives the film a new edge. The poker tops it all off nicely and brings it up to date. They played Baccarat in the original book.
"Casino Royale had all you could ask for from a Bond movie. Plenty of action meant the movie never seemed long at all and it was close to 2 ½ hours in length. All in all, it was a fantastic movie and in our opinions Daniel Craig is definitely worthy of the role. It is a must see movie!"
Ed note: Entertainment is the business when you download Purple Lounge Poker plus you can play for a huge $1,000 bonus!