UK Poker News Review: Grosvenor Casino, Stoke

Paul Sandells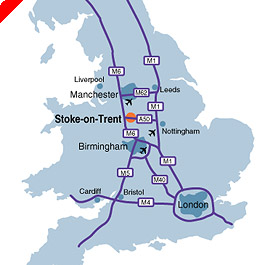 The poker scene in Stoke has been getting rave reviews from the U.K community recently. Paul Sandells went along to Grosvenor Casino in Hanley, Stoke to see what all the fuss was about.
Midlands poker players are spoilt for choice right now. With great card rooms in Birmingham, Walsall and Nottingham, to mention just a few, there are plenty of options for live poker players each evening. However, one of the major gripes for players is the lack of friendly structures in these regular tournaments. Re-buys are the order of the day, so it was a pleasant surprise to turn up to the Grosvenor Casino in Stoke to find what appeared to be a very friendly £20 freezeout.
With 8000 starting chips, a 30 minute clock and the 'holy grail' of a 150/300 level, there was plenty of room for play. 66 players chanced their luck, creating a £1320 prizepool. Although this was hardly the biggest prize pool around it still created a healthy £450 for the winner.
The card room in this casino is spacious. It features ten round tables. It appears the round tables allow for more space compared with the regular oval shaped versions. Indeed, there was enough room to move around for quick access to the bathrooms or for a smoking break (the card room itself is non-smoking).
The casino has a modern feel and is clearly very new. I was impressed, upon arrival, at the friendliness of the staff. I was immediately offered a drink by the pit boss, not a valet! after taking my seat at a Blackjack table. A valet had the drink beside me within a minute. I must stress I had not announced I was reviewing the casino to any of the staff, so this was clearly not a case of special treatment.
The casino offers bar food from 6pm and a restaurant menu from 7pm. The bar food menu is excellent, with a range of hot and cold sandwiches, baguettes, burgers and salads. The restaurant appears very plush and is well appointed in the corner of the building.
Four plasma screen TV's are spread around the bar area. With ample seating available in the form of very comfortable leather chairs, this is a great place to relax after a bad beat from the near by poker room.
The local players here are very friendly and welcoming to a new face, on the whole. It would be apparent, to the experienced player, that poker here is still a growing area. The occasional dealer mistake is nothing to worry about though, as it's something that will be ironed out in the fullness of time.
I'm looking forward to my next trip to this card room. A medium sized festival should be very popular here if all the current standards continue to be met.
Ed note: Play live in Australia when you download 888 Poker and qualify for the Aussie Millions via our Team Poker News Freeroll