Danielle Lloyd and Teddy Sheringham Set to Party at Poker

Tony Bromham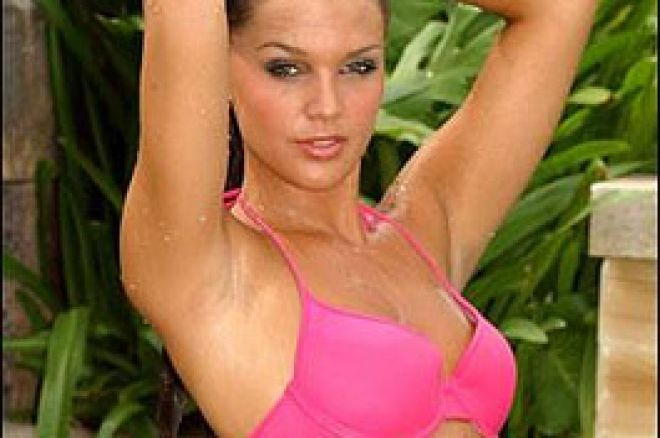 The ongoing saga of the beauty queen and the footballer takes a fresh turn next week by heading for the poker tables and the TV screens, with the filming of the third annual PartyPoker.com European Open in Maidstone, Kent.
Danielle Lloyd – former Miss Great Britain – and Teddy Sheringham, the oldest football player in the Barclays Premiership, will be two of the many contestants taking part in a tournament won last year by Ian Frazer (who had also won the UK Poker Open at the same venue not long before that).
Although Ian Frazer will be defending his title, it is the presence of Danielle Lloyd and Teddy Sheringham that will command attention. Earlier this month, Miss Lloyd was stripped of her Miss Great Britain title after allegations that Sheringham – a judge in the competition – already knew Miss Lloyd at the time of the judging. Both deny this but she was in any event barred since she also broke the beauty competition's rules about using her status to pose topless in Playboy magazine. Miss Lloyd's recent appearance in a certain dress at the "Casino Royale" Premiere in London has also done nothing to reduce public interest in her!
Party Gaming is certainly assured of publicity for the PartyPoker.com European Open and they will fervently be hoping for a table draw pitting Sheringham and Miss Lloyd against each other at the felt.
The poker takes place next week from 4th December until 11th December and Barry Hearn's Matchroom Sports is filming the event for Channel 5 for airing in the New Year. As always in these popular short-handed TV tournaments, the "voice of poker" Jesse May will be leading the commentary. To add some spice, and maybe cattiness, he will be joined by Roxanne Siordia, the American Maxim model.
The rest of the poker players will be all-out to prove that there's more to the game than a pretty face. Northern Ireland's John Magill, who cleared a million dollars coming 12th at the 2006 World Series of Poker Main Event, will be playing as will several celebrities and poker regulars such as Steve Davis, the snooker legend, Ibiza DJ Brandon Block and actor Jamie Foreman. Temporary ballroom dancer DJ Spoony will also be trying his hand.
Despite the high quotient of showbusiness on offer, there is a serious side to the tournament in the shape of the first prize. $125,000 is the reward for winning the PartyPoker.com European Open 2006!
Whoever makes the grade, we can be sure no love will have been lost. As Danielle Lloyd says:
"I'll forget my Teddy when I get to the poker table, I play to win!"
Ed note: You can join the celebrity legions when you become a Poker Pro for a Year