Free Poker, Money and Sex – Poker Industry, Take Note!

Catman - The Poker Agent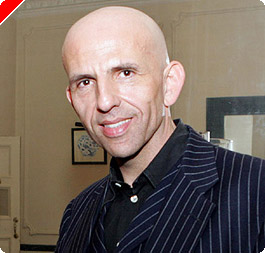 "Something for the weekend Sir?" "Certainly!" UK Poker News has decided to supply a little something for our weekend readers. We already have Nicky O'Donnell's UK Poker Weekend for a player's perspective on the poker world and now we are pleased to say that Catman – The Poker Agent will provide a regular series of views and observations from his own colourful world of poker promotion! Catman is a veteran of Sky One's Naked in Westminster and the Sophisticats nightclub but now runs The Poker Agency at www.thepokeragency.co.uk. We are looking forward to hearing all about a raunchier, entertainment-driven view of poker. "Let the show begin!"
They say nothing in life is for free! There's no free lunch, no free sex; there is a price to pay for everything. "Catman, are you going to the Chivas Regal poker cruise tomorrow?" asked John Minson as we battled it out in a £20 Sit'n'go at the Loose Cannon. Bingo! There it was; a free night of poker! For someone whose main loves in life are money, poker and sex – well that's what my girlfriend says - then www.chivas-discover-poker.co.uk was the one for me. Always play poker with someone else's money – my motto and that of any clued up poker pro (I am a pro poker agent so that includes me!).
I hurriedly blagged my VIP pass on Chivas Regal Poker Cruise and was ready for a game with 400 poker players. With all this for free, I convinced her indoors (a sensational poker player) that I had arranged a romantic evening on the Thames playing poker. The next day hell landed deep in my cerebral cortex, I was about to try and break the golden rule and get the free money, sex and poker all in one trip. The louder and moodier poker players are, the more I enjoy their company, but what would my cherished girlfriend think of being stuck for 4 hours or so on a boat with my friends and only the muddy Thames as an escape option, possibly for me?
Chivas Regal was voted one of the UK's coolest brands; we all know about J.D. and their poker tins (look on Ebay), but Chivas have moved one step further into live poker event sponsorship. Whisky has always been a bit like Caviar, an acquired taste. From my days at school when I studied Playboy I am sure I can remember adverts of yachts, bikinis, breasts and Chivas. Having worked in the night club and entertainment industry for many years, Chivas Regal Royal Salute was always the Coco Chanel of drinks, you could be sure it would be accompanied by a black Amex.
Now to the serious side of this free game. Poker in Europe is about to see its first real outside sponsorship, something that players and moneymen such as myself are more than eagerly awaiting. So far Pepsi, Levitra (whatever that might be!) and the likes of Aston Martin are realising the power of poker as a marketing tool, but little has really come back to the players. Sponsorship has always been ad-led by the poker industry and TV. At this moment there are some unlikely outside names getting closer to poker.
As we waited to embark the luxurious 450 capacity Silver Sturgeon, I was still trying to work out how this event would finish in 3 to 4 hours. Like a set on the flop, I knew I had landed a seat at the best game in town when 4 stunning Chivas Girls in black evening dresses greeted me. "You must be Catman!". Yes baby, this was my kind of place. We boarded the boat, my angel companion was in her jeans and everyone else in evening wear, and with me thinking it was just another scruffy poker game, not particularly well suited and booted.
As we entered the leather clad salon, we were given our 3 red "free drink" chips and a white "one thousand" chip. "Where is the game?" enquired Mr UnCool. "Any table you like Mr Catman" came the reply. Well, it was fun sit'n'gos, not the marathon I had expected; Chivas cocktails all night, with bottles of Chivas or wooden-boxed chip sets to the winners. The only faces I knew were the dealers. I took a Vanilla Chivas Cocktail and waited with bated breath for a punch in the solar plexus from my muse. Instead I got a kiss and was told I would have the pleasure of dancing with her later, to the band.
Hospitality and sponsorship costs, but if you are going to play your hand, play it well! If you have got it, flaunt it and be generous. In terms of fun and glamour, Paddy Power, MANSION and VC come up with the goods, the rest just offer you an image on the net or a chance to battle through "sats" to pay for your cherished seat. Nothing beats the shiver that goes down your back when you hear the clicking of chip riffles that fills the room as you enter the WSOP playing arena, but that will cost you a little more. But here we are, living the Casino Royale Dream for zilch, given by a company who know how to create a table image. I predict that this is just the beginning of outside sponsorship that will provide many opportunities to the beautiful world of poker.
Chivas are investing a small fortune into making poker an event, an evening of fun and ultra cool entertainment. Poker industry, take note!
The next event - on 6th December 2006 - is at Pangea, one of London's sexiest nightclubs. Go for it! Dress up in your best Bond guise and take your poker-playing girlfriend. Live the dream.
Party on Chivas Regal, I salute you. Anyone else, let me know where I can find free poker, booze and sex? (err….cancel that request!)
Stay tuned to UK Poker News for a great Chivas drinks offer very soon, courtesy of Catman – The Poker Agent!
Ed note: Experience the high life of poker with a huge $1,000 deposit bonus when you download Mansion Poker