Betfair Sells Out the Asian Poker Tour

Tony Bromham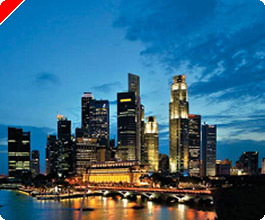 In a sign of things to come "post-America" for online gambling, Betfair Poker has reported a stunning success in filling to capacity the Main Event of its inaugural Asian Poker Tour festival in Singapore.
Over 370 players have each paid the $5,000 entry buy-in for the three-day Main Event which takes place from 15th November at the Mandarin Ballroom in the palatial Meritus Mandarin Hotel which boasts superb city and harbour views. Here, a luxurious Presidential Regency Suite might set you back over $1,000 for the night, although mere mortals can expect to pay nearer $250 for a double room!
Although many players have qualified through Betfair Poker online, a few more spaces are up for grabs. The drawback for UK players who were not quick enough to open a Betfair Poker account is that to qualify for the remaining seats, they will need to hotfoot it to Singapore in person! The remaining satellites, which are expected to boost the Main Event numbers up to over 400, are live and kicking in Singapore beginning on this coming Sunday, 12th November. That is when the festival starts including several side events before the chief attraction, the Main Event, starts on the 15th playing through to Friday 17th.
It is expected that players from thirty-two countries will be competing in the Main Event together with a large contingent of local players. The winning prize for a 400-strong Main Event will be over $550,000, around $300,000 for the runner-up and an estimated $150,000 for third place. The overall prize pool would be about $2,000,000.
Ben Fried, Head of Poker at Betfair said:
"This is the largest poker tournament to take place in Asia and the first poker event in Singapore. We are privileged to host such a groundbreaking event."
The Asian Poker Tour was launched by Capital Events in conjunction with Betfair and the Singapore Tourism Board and will be filmed and broadcast to a worldwide audience in the future.
Betfair Poker recently launched its new online software platform giving it more independence and control over its own future and a greater ability to respond to its clients' needs and requests.
Ed note: Experience a new, independent gaming scene. Download Betfair Poker and qualify for more big tournaments like the Asian Poker Tour.