For Eurosport, Read Backgammon!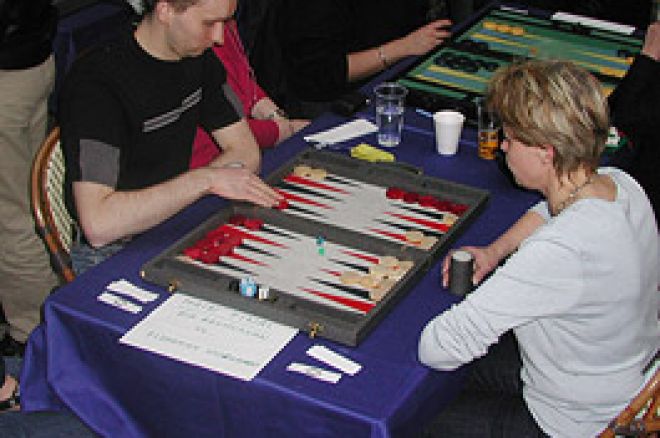 For TV viewers seeking a little something different, Eurosport have commenced a series of programmes dedicated to the game of backgammon. This may come as light relief to some viewers of the satellite and cable TV channels in the UK where, in recent years, the schedules have been choc-a-bloc with poker programming.
There are only so many re-runs of WPT final tables that the average poker player can stomach, although it never fails to amuse us watching one of Gus Hansen's junk hands take out an unsuspecting "big-shot" from Las Vegas, or seeing Phil Hellmuth implode after an outdraw for the seventeenth time.
Digital channel, Eurosport, is going in a different direction but toward a game that may well be familiar to many poker players, certainly the likes of Gus Hansen. The European-facing TV station, with a choice of languages for its viewers, has just begun a series of programmes featuring two tournaments from the World Series of Backgammon.
Commentary is led by the UK's John Clark, one of the most respected players around, with guest observations by leading competitors – a similar format to the poker shows. The series is being broadcast over eight programmes and features play from tournaments that take place at the Palm Beach Casino in Cannes, France. Many of the best backgammon players are present and competing in the Riviera Cup and the Nations' Cup.
As you might expect, it has taken a dose of sponsorship to persuade TV to get involved. In this case, it is the "muscle" of the poker world, Party Gaming, that has pushed PartyGammon.com forward with the readies. A spokesperson from the sponsors said:
"We see this coverage as the first step in finally putting backgammon on the sporting and gambling agenda once more. Backgammon is back on the up since its heyday in the late 1970's, and we hope this will encourage people to take up and enjoy this great game."
UK TV viewers have had a sample once before when digital station Pokerzone broadcast "High Stakes Backgammon", and the same people behind that show are on board for the Eurosport series. Series Producer of The World Series of Backgammon, Andy Bell, said:
"We're confident that this series will provide exciting action, and informative programming for Europe's gaming fans. I'm certain that thousands of poker fans will join backgammon enthusiasts and tune in to watch this show.
"With this series, we will be presenting a compelling and powerful mix of match-play and backgammon insights. Just as poker has been reinvented using the medium of television, we'll be using graphics, and exciting timed elements to ensure an exciting and watch-able series,"
The TV series started this week on Eurosport and will continue on Mondays, the next being 13th November at 22.15 GMT (23.15 CET).
Ed note: Top quality backgammon strategy and information can be found at our sister website Pokernews Backgammon.