Tony G Wins the Betfair Asian Poker Main Event: Donates Half to Charity!

Tony Bromham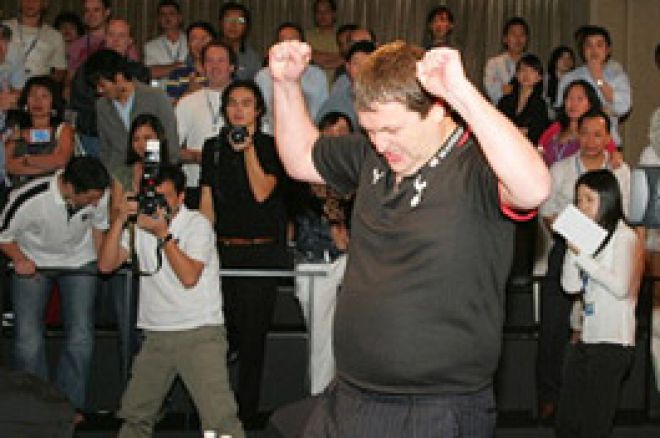 Australia-based professional poker player, Tony G, the super-aggressive, king of the rubdown, has made history by winning the inaugural Betfair Asian Poker Tour Main Event.
The Mandarin Ballroom in the luxurious Meritus Mandarin Hotel in Singapore played host to around 400 players over three tension-filled days of poker. The final table comprised (in chipcount order):
Samuel Lehtonen - 897,500
Tony G – 717,500
Joshua (Ang Pang Leng) – 309,000
Lee Nelson – 257,000
Hans Vogl – 250,500
Jeff Kimber – 240,000
Brendan Walls – 243,000
Mark Whent – 101,000
Neil Yong – 98,500
Henrik Dahlgaard – 74,000
Included here was Irish Poker Tour Grand Final winner from June 2006, Brendan Walls from Ireland, and WPT Bay 101 Finalist, Jeff Kimber from the UK. Also lining up was Aussie Millions 2006 winner, Lee Nelson from New Zealand.
All of these players had a big deficit in chips however when compared to second placed Tony G and chip leader Samuel Lehtonen from Sweden.
Furthermore, they were never going to stand a chance!
Tony G took control of the final table just as he said he would do. Nor would the players enjoy a quiet session of poker! Tony G's legendary banter was soon in full flow along with his aggressive table captain style.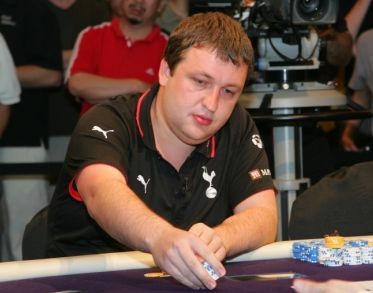 One by one, Lee Nelson, Samuel Lehtonen, and the others fell to the rail until it was left to local hero Joshua Ang to face the sharp tongue of Tony G by himself. He was soon to find himself all-in after the flop with Ace-Jack but this was no match for the 10-6 with a 10 on the flop that Tony G produced.
It was all over and the world's poker players will now wake up to the news that their favourite player had won the Betfair Asian Poker Tour!
With this title came a cheque for $451,700 and an act of generosity. Tony G declared that half of the winnings shold be donated to a number of Asian and Australian charities to be nominated by Betfair.
Betfair's Head of Poker, Ben Fried said;
"His offer of a fifty per cent donation to charity is extraordinarily generous,"
For his own part, Tony G said;
"I want people to know that poker is sport. This is not a large amount compared to what people like Bill Gates give to charity but it is a gesture to show that it's not all about the money, it's about the competition as well."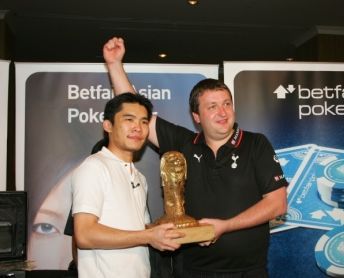 In addition to this gesture, the Champion also endeared himself further to Singaporeans by giving his trophy, in the design of the Singaporean Merlion, to the runner-up, Joshua Ang, a Singaporean resident. Tony G said it would enable this symbol of Singapore to stay in the country.
Ben Fried asked Joshua to bring the Lion back next year when Betfair will return for the Betfair Asian Poker Tour!
The Final Table placings were as follows:
$451,700 – Tony Guoga
$233,200 – Joshua (Ang Pang Leng)
$116,600 – Lee Nelson
$102,000 – Samuel Lehtonen
$87,400 – Jeff Kimber
$72,900 – Mark Whent
$58,306 – Hans Vogl
$43,700 – Hendrik Dahlgaard
$29,200 – Brendan Walls
$17,500 – Neil Yong
Ed note: Expand your horizons and go to the best events worldwide when you download Betfair Poker