Absolutely Ultimate Bet Poker?

Paul Sandells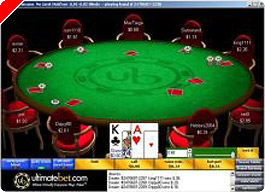 Rumours have been circulating about many online poker room mergers since the US government passed legislation to make the funding of poker accounts difficult for their citizens. Reports are coming in that Absolute Poker and Ultimate Bet are set to merge this coming Monday following weeks of speculation.
According to our sources and in an article from eGaming Review Magazine, Absolute Poker and Ultimate Bet are to join forces and merge. The online poker giants, who had a huge American presence prior to the recent law changes, could form one company as soon as Monday 6th November.
Few details of the rumoured merger are yet to hit the poker news wires. Rest assured that UK Poker News and our parent company PokerNews.com will get all the latest to you as and when it happens.
Ultimate Bet's parent company, Excapsa Software, sold it's entire operation to Blast Off LTD just one day before US President George W. Bush signed the "Unlawful Internet Gambling Enforcement Act" into law. Blast Off LTD paid a reported $130 million for the acquisition.
The news could start off bidding wars for several of the highest profile online poker rooms. Party Gaming and 888's share priced crashed on the news from America. The vultures are sure to be circulating to pick off what is left of these one huge organisations. Indeed, it could be a question of when, rather than if, some of these companies are taken over or merge with each other.
Party Gaming PLC finished the week down on 27.5p. 888 were trading at 110p, slightly up, at the close of trading today, Friday.
Ed note: You can still qualify for the Aussie Millions for free when you download 888 Poker