Tournament Report: The Grosvenor Grand Prix

Richard Prew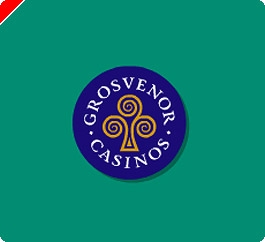 The Grosvenor Grand Prix held in Walsall over the weekend of the 14th-15th October is one of the most popular UK events of the year and one of the most lucrative too. Entry to the event can only be gained by qualification in one of approaching 60 live and online qualifiers. The proceeds of the £100 re-buy pot limit satellites created a prize pool of over £300,000 for the 240 qualifiers with a headline first prize of £100,000.
One of the reasons for the popularity of this large UK event is the cosmopolitan field it attracts. In addition to poker household names like Colclough, Mallu, Goodwin and Jackson there are many small time players who qualify in their local casinos for as little as £100-200 and thus are granted a shot at a big prize for only a modest outlay. In addition every qualifier receives £100 just for turning up, so some runners are effectively free-rolling.
The competition itself , Pot Limit with a 45 minute clock and 10,000 starting chips, split the field into two 120 player flights on the Saturday with amalgamation of the field on the second day. Despite the competition being pot limit there was a steady attrition rate through the first day. Paul Jackson for example managed to get his whole stack in pre flop with AA versus KK only to see a King flop to eliminate him. Elsewhere we saw four separate examples of set over set to speed the thinning of the field. At the end of the first day 114 of the 240 players had survived led by John Exley from Blackpool with 62,000 chips followed by Luton's Premji Patel with 60,000.
The requirement to finish the event over a weekend with more runners than the capacity of the casino led to day two action being swift as the structure, missing both the 75/150 and 150/300 blind levels caught up with the short stacks. Indeed with 87 runners left and blinds at 600/1200 the average stack was only 27,000 chips or 16x big blinds. This was to lead to ramifications later on.
From an early stage of the second day five leading participants emerged to head the field. Joint chip leaders were Cardiff's Roberto Romanello (Britian's highest placed finisher in the WSOP main event this year) and local player Matt Cartwright with 240,000 chips. Following closely behind were Lancashire's Zahir Aslam, legendary Surinder Sunar and the consistently successful Mick Fletcher winner of the Bolton main event in September. The leaders were reduced when Sunar was eliminated by Fletcher and with 20 players left and blinds at 5,000/10,000 the average stack was 120,000 (12x big blinds).
With 13 players left Fletcher had 295,000 chips with his nearest pursuer Mike Quayle with 235,000. At this point each player was guaranteed £1,500 with 8th for example set to receive £5,200. Chip stacks were tightly grouped and blinds were big. The players then agreed the first of three deals to alter the prize structure in which each of the 13 players was guaranteed a minimum of £10,000 with now £75,000 to the winner. This was a practical solution to the issue at hand. Even the chip leader could be severely hurt by doubling up a 100,000 short-stack and the deal (or more accurately the flattening of the payout) left significant prizes for the top few finishers.
Mick Fletcher then began to place himself in a position to dominate the event. Showing constant re-raising aggression around the bubble he moved to a commanding chip lead with 494,000 chips as the final started, followed by Matt Cartwright with 406,000 and Romanello with 369,000.
The final itself saw Walsall's Darshan Sami depart first, at the hands of Fletcher, with his pair of eights outdrawn by KJ. Margate's Alan Dean then ran his Queens into Aslam's Aces (which rather emphatically turned quads) to exit in 8th followed by Romanello who missed with his King flush draw against Peter Smyth's pair and up and down straight draw. Anthony Hughes left in 6th when he ran 99 into Cartwright's KK.
With five left, it was anyone's game with chip counts ranging from 572,000 (Smyth) to 356,000 (Fletcher, having taken two hits against shorter stacks and doubling them through). Here a second deal was agreed guaranteeing 4th and 5th £20,000 and the winner £67,000. Fletcher soon was out in 5th followed by Tony Adderley very unluckily being defeated by K 10 when pushing with AK, a 10 flopping.
Three handed a final deal was agreed securing the final triumvirate £40,000 each leaving £4,700 to the winner. When Smyth ran A7 into Aslam's AJ and was eliminated in third we saw Aslam and Cartwright heads up with Zahir Aslam having a substantial chip lead. Heads up was brief with Cartwright A7 coinciding with Alsam's A9.
Zahir Aslam was thus crowned the 2006 Grosvenor Grand Prix champion after another successful renewal of a popular competition. There are already calls for an extra day to be added to 2007's event to avoid the "crapshoot" problems that the structure created during the second day which are clearly undesirable for an event with an advertised £100,000 first prize.
Ed note: Download 888 Poker for a chance to win a free seat at the Aussie Millions