Late Substitute Wins $250,000 at the UK Poker Open

Tony Bromham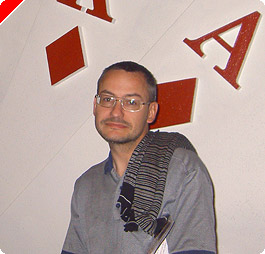 The 888.com UK Poker Open, held in Maidstone, Kent, has been won by Estonia-based Marek Kolk, seeing off the like of UK professional Roland de Wolfe at the final table. Yet two days before the event, Marek had no idea he was playing!
You can't beat poker for the unexpected! It is also what makes this game so compelling as anyone with a working knowledge of poker can mix it up with the best players in the world and sometimes win.
It is especially heartwarming for us at the Poker News group as Marek is the editor of Estonia Poker News which is due to launch very soon.
The 888.com UK Poker Open has become one of this country's leading TV poker events with substantial prize monies on offer. Last year's winner, Ian Frazer, has since gone on to prove he is a fine poker player with subsequent achievements such as winning the Party Poker European Open and cashing in two WSOP 2006 tournaments in Las Vegas.
So, what of this year's winner? Marek Kolk picked up a cool $250,000 for his achievement, winning the tournament ahead of the other 107 competitors, 65 of whom are fully-fledged poker professionals! The remainder in the field comprised 35 internet qualifiers through 888 Poker and 8 invited celebrities including Rugby Union international (and TV ballroom dancer!) Matt Dawson, West Ham United footballer Teddy Sheringham, and Eastenders star and stand-up comedian, Mike Reid.
Like many TV events, the structure of the poker tournament is a series of six-handed single table eliminators with the winners from each progressing to a semi-final stage. In this case, the two finishers at each of the three semi-finals, met in the Grand Final to battle it out for the prize money.
UK Poker News asked Marek after the event about the experience. He said:
"The first round was very passive which made it easier for aggressive players but I had no big hands so I did not really understand how I found all of these chips in front of me!
"The semi-final was totally different with lots of raises and bluffing. I had to pick my few chances carefully and get the maximum money from my playable hands. Luckily, I managed to make the final table with the biggest chipstack.
"In the final, because of my chipsatck, I played looser and was paid off when I hit several draws and got lucky in the final hand. Even when I was calling Roland de Wolfe's bet King-high with the intention to bluff the river, I hit a King on the turn! This play was only possible because I knew my opponent was able to think through which cards I was most likely to have in a given situation. This move was worth about 100,000 chips to me.
"I also had the honour of knocking out Matt Dawson (Rugby Union player, poker player, sports quiz player and now good ballroom dancer too!) in the first round. Other famous participants I saw included Teddy Sheringham, Miss Great Britain and lots of professional poker players!
"I heard later that at least four people had placed bets on me to win before the final table, but what makes this win all the more sweet is that only a couple of days before the tournament, I was sitting next to European Champion Tony G in his office in Vilnius (Lithuania) with no idea about a trip to London!. At 5am he suddenly asked me, "You know that we are going to London this morning?" He went on to explain that he needed an emergency substitution, so I agreed………."
Clearly an inspired move!
Ed note: Play the exclusive Aussie Millions Poker News Freerolls by downloading 888 Poker only at UK Poker News