Total Poker Glamorously Embraced by Maxim

Tony Bromham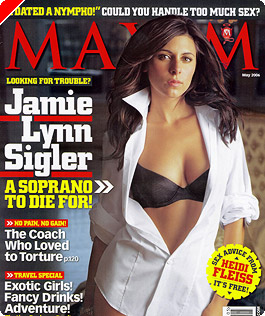 The same UK stable that houses lifestyle magazine publications like "Viz", "Bizarre" and "Men's Fitness" and, closer to home, the gamblers' magazines "Inside Edge", "Poker Player" and Total Gambling", is lined up to introduce us to "Total Poker", a 16-page "mini-mag" all about the pastime of poker.
There is a slight catch – Total Poker will form the monthly centrepiece of Dennis Publishing's glamour magazine, "Maxim". If you want the poker, you have got to buy the glamour.
The publication date for the first edition of Total Poker is scheduled for 26th October and has been prompted by the publisher's discovery that the readers of Maxim rank poker as the second favourite hobby amongst its readers. No information has been released about the hobby that surpassed poker!
With such a strong stable of gambling publications on its roster, it is not surprising that most of the content will originate from the pens of those responsible for Inside Edge, Poker Player and Total Gambling.
The mini-magazine is a secondary offering to Maxim buyers so the content will most likely and necessarily be aimed at a generic poker audience, with a range of articles on strategy and tips on good poker play.
It could also have the effect of introducing poker players to the world of glamour if they are compelled to buy Maxim. Given the amount of time many players spend at the tables or in front of their screens, perhaps this is a healthy development...!
Dennis Publishing covers poker in some of its other magazines too but the like of "Inside Edge" has a wider appeal incorporating popular gambling activities on sports amongst others. Our sister website Sportsbetting Poker News also considers these markets from a mainly UK perspective.
Ed note: Glamour and poker is on exclusive offer in the Poker News James Bond 007 Tournament with tickets to the "Casino Royale" Cinema Premiere in London up for grabs!