Southern Masters at Grosvenor Southampton 29th/30th October

Richard Prew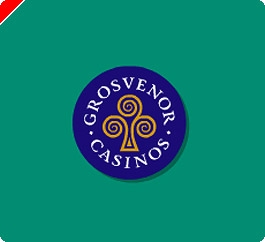 68 runners sat down for the latest Grosvenor festival main event, this time on the south coast at Southampton. Oddly the competition was a Sunday to Monday affair but nevertheless in contrast to the extremely disappointing turnout for the previous Southampton event the field was of acceptable size. The field this time had an unusual feel to it with a majority of the perennial festival combatants across the Irish Sea for EPT Dublin, yet Southampton still attracted Joe Grech, Tony Kendal, Grand Prix winner Tony Adderley, Michael Greco ( and yours truly ) in addition to many many local players playing an event far different from the small re-buy competitions that are Southampton's staple fare.
Structure wise the event was set to be a marathon not a sprint with 10,000 starting chips (double chance) and a one hour clock. Belying this structure early action was brisk. Tony Adderley cracked Tony Kendal's Aces with J9 on a rivered 9 to give him two pair and leave Kendal taking his second allotment of chips early. Elsewhere successful Tribecca Online player James Dempsey was seemingly laying waste to his tight-ish table including hitting a runner runner full house to beat his opponent's flopped trips. On this particular table, with blinds as low as 100-200, there were several stacks over the 35,000 mark. Dempsey himself rose to 65,000 chips to vie for an early chip lead with the local player Hoss Parhizkar who propelled himself to a large stack by cracking Dave Penly's AA. However Dempsey's momentum was not to last as he departed before the end of day one.
Elsewhere Jeff Rogers from Watford has had a consistently successful 2006 on the festival circuit with a series of high cashes and he was progressing nicely towards the end of the night until he had a meaningful setback. Re-raising Sarah Gammage with his KK on the button he seemed unsurprisingly pleased to see her commit all her chips pre flop with AQ offsuit. Rogers was less pleased when she flopped an Ace to leave him back on a crowded pack at 30,000 chips.
Overnight 17 players remained led by Hoss Parhizkar on 110,000 chips and fellow locals Chris Egerton and Scott Baker around the 80,000 mark. Five of the players were returning with less than 10x the 2,000 big blind.
Progress towards the final table was swift on Day 2. Ryan Fronda ran AJ into the AK of Frederick O'Brien on an Ace high flop and other early exits included Barry Wilson, Colin Knapp and Alex Martin. The latter two clashed with the seemingly invincible Parhizkar who was both showing aggression and hitting premium starting hands.
When Sarah Gammage was eliminated at the hands of Scott Baker in a AK versus QQ battle we were left on the bubble. Marshall McCrombie had nursed his wafer thin stack for several hours until finally the blinds caught up with him, much to your second short stacked correspondent's relief as I was able to limp onto the final table, card dead and short of opportunities to exploit on Day 2.
The final table contained enormous amounts of play. 680,000 chips were in play and blinds were at 2,000-4,000. Chip stacks ranged from 120,000 to 17,000. At this point the poker gods decided to let me, the short stack, pick up a succession of hands to enable me to hang around for several hours! Moving all in with AA twice, AK, KK, 10,10 before finally receiving a call when holding KK again to double up through Rogers's 88.
Vu Nguyen departed in 9th when missing his nut flush draw against Adderley's top pair. Harish Chandarana saw his K 10 lose to Rogers' A J in a blinds confrontation to leave in 8th and Frederick O'Brien, having made a spectacular face up pass of AK when re-raised all in by Adderley, left in 7th.
At this point my long "grind" was finished as I was trapped by Tony Adderley, limping in the Small blind with Kings. With 10 5 of spades I saw a flop of 2 3 4 with two spades to give me plenty of outs which I missed completely having pushed on the flop and unsurprisingly being called by the successful trapper.
With five left Scott Baker was the short stack with 65,000 and the remaining four contestants (Rogers, Adderely, Parhizkar And Egerton) all relatively comfortable above 130,000 chips. Matters changed very quickly in a three way all in pre flop coup in which Scott Baker showed great timing to look down at KK in the big blind with Adderley all in with a lowly pair of threes and Egerton pushing over the top of him with AQ off-suit. A King arrived on the flop to eliminate Adderley in 5th, leave Egerton wounded, and propel Baker into contention.
Egerton departed in 4th and then the hand that resolved the fate of the tournament. Rogers holds J 10 on a J 10 7 flop against Parhizkar's KQ in an unraised pot. All the chips go in and Parhizkar hits a 9 on the turn to give him the nut straight.
Heads up Parhizkar made short work of Baker with a sizeable chip advantage. No deals were done and a successful and gruelling tournament was concluded with Hoss Parhizkar the 2006 Southern Masters champion.
Ed note: Get a $1,000 bonus when you download Mansion Poker and take on the big boys in the Mansion Poker Dome