Live Tournament Preview: UK and Ireland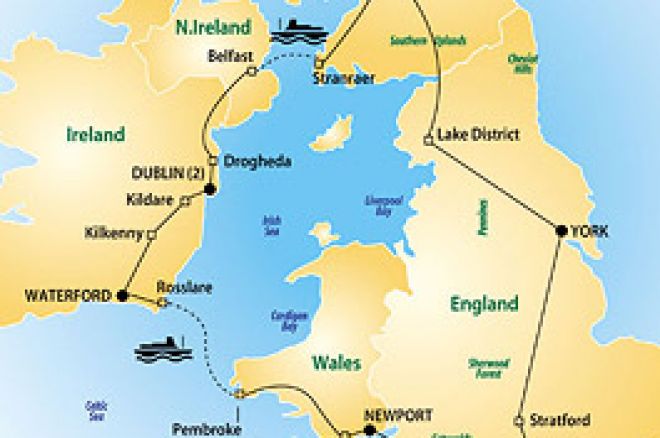 The nights are closing in fast but the poker goes on regardless this Autumn. So, we thought we would see what's happening in the next week or two on these islands.
A small but significant series of poker events – designed for the "man (or woman) in the street" – is the Paddy Power Poker UK Tour which comprises £100 + £10 buy-in Texas Hold'em freezeout events to which Paddy Power Poker is generously adding £1,000 per tournament. Very nice too!
The Tour has already called on the Gala Maybury Casino in Edinburgh and Aspers Casino in Newcastle but is now heading further south for its next stop. This will be at the splendidly-appointed Broadway Casino in Birmingham and takes place next Thursday, 26th October.
This is followed closely by Brighton Rendezvous Casino on 1st November, then Banbridge Bridge Club, Northern Ireland on 13th November. The Tour comes to a glorious finale at The Sportsman Casino in Marble Arch, London on 1st December from where UK Poker News expects to send dispatches.
Moving on down the A1 from Banbridge, but still of considerable interest to Paddy Power Poker people, we have The Irish Masters festival at the Regency Hotel, Dublin. This is a short festival and has two moderately sized entry tournaments but is also the host of the Dublin leg of the European Poker Tour. This takes place over the four days from 26th to 29th October next week. The EPT event itself costs a whopping €5,000 to enter although, if you are very quick, there is still an opportunity to qualify (four seats are up for grabs) in a $475 "Last Chance" event online at 17.30 BST today (18th October) at Pokerstars.com.
Players can still enjoy the craic and celebrity of the Dublin occasion by playing one or both of the side events. These are:
- Saturday 28th October at 3pm: €500 + €50 No Limit Texas Hold'em Freezeout
- Sunday 29th October at 2pm: €300 + €30 No Limit Texas Hold'em Freezeout.
Finally, on the south coast, Southampton Grosvenor Casino will be holding its Southern Masters Poker Festival on 29th and 30th October. This will comprise a Main Event over the two days and a smaller single day side event (note: the latter one is a Pot Limit rebuy structure):
- Sunday 29th October: £500 + £50 No Limit Texas Hold'em Freezeout (2 days)
- Monday 30th October: £100 + £10 Pot Limit Texas Hold'em with Unlimited Rebuys and one Add-on after 90 minutes.
Wherever you choose to go in the UK and Ireland, we hope you enjoy the best of luck. Check back to UK Poker News for reports from our man on the ground at the Dublin EPT!
Ed note: Download Paddy Power Poker for more of their super generosity. A $500 bonus can be yours when you do!