Poker Platform Providers Assess the Damage of US Anti-Gambling Law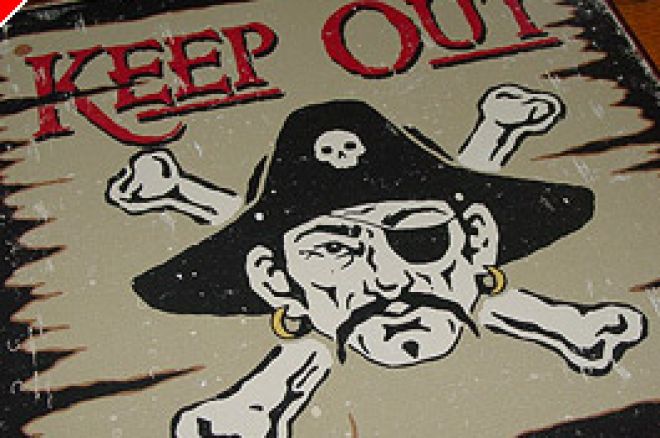 With the passing of the "Unlawful Internet Gambling Enforcement Act of 2006" in the US over the weekend, the focus today has been on the online poker and casino operators like PartyGaming plc and 888 Holdings plc and the "e-wallet" companies like Neteller plc and FireOne Group plc. Each of these companies and their peers will, at a stroke, lose a substantial portion of their business, and more importantly, their cash-flows.
It should not be forgotten however that there a lot of companies that depend on these businesses, such as the software providers, without whom the operators would have no product to sell. PartyGaming and Pokerstars have their own platforms but many of the operators take a generic platform under license and re-brand it for their own market. These platform-providers will also be feeling the pain today.
Some of the major players that cover many of the smaller sites played are CryptoLogic, Playtech, Microgaming and Boss Media. Not all of these are quoted companies that have to publicly update their investors but we can glean some idea of the impact from those that are.
Playtech Limited is a Cyprus-based group that is listed on the London Stock Exchange. Playtech supplies a platform that is used by several poker and casino companies including the aggressively-marketed Titan Poker, CD Poker and Noble Poker. It also provides online casino platforms to the likes of Golden Palace, Casino Tropez and Club Dice. Outside of the US, companies from the UK such as Betfred (including the Manchester United branded co-platform), Bet365, UKBetting and The Tote are casino licencees.
Playtech Ltd has this morning stated:
"The Board of Playtech Ltd, the AIM-listed international designer, developer and licensor of software to the gaming industry, notes the decision by Congress in the USA to enact the "Unlawful Internet Gambling Enforcement Act 2006.
"The Board of Playtech states that it continues to receive legal advice regarding the impact of this legislation. Whilst Playtech is not an operator of online gaming nor a payment processor, the Board accepts that if this legislation becomes effective there would be a material impact on certain of its licensees and therefore on Playtech's revenues.
"However, in the first half of 2006 more than 50 per cent of Playtech's revenues were derived from non-US players, a figure that is steadily increasing as the Company continues to add more new non-US facing licensees.
"Playtech is actively growing its revenue base in Asia, Europe and South America where the Board believes it has substantial business development opportunities. Playtech's current new business and development pipeline, including commissioned products, is entirely focused on these non-US markets as are all new licensees."
Another big player in software platforms is CryptoLogic Inc, hitherto based in Canada. Supplier to the likes of Betfair, William Hill, Littlewoods, Interpoker, Caribbean Sun and many others, it is perhaps less exposed to the US marketplace than others. In fact, only last week, CryptoLogic announced its intention to relocate its headquarters into the Republic of Ireland and switch its main stock market listing to London from Toronto. CryptoLogic's President and Chief Executive, Lewis Rose, said:
"CryptoLogic's business is increasingly centered (sic) in Europe, and establishing our organization in that market is the logical next step to support our international growth plans. For CryptoLogic, this is about being closer to our customers, and to the world's most thriving internet gaming markets. By expanding our presence in gaming-friendly jurisdictions, CryptoLogic enhances its flexibility to pursue all strategic opportunities and broaden the services offered to our customers."
The Swedish-based Boss Media group has a plethora of smaller poker operators using its "skin" including Poker Heaven, Virgin Poker, Total Poker and BetDirect. Boss is primarily a European operator and is to an extent less affected by the US development.
In a statement, Boss Media has said today:
"As the bill on banned Internet gambling payment processing services in the United States turns into formal law, Boss Media AB will immediately take action to block American players resident in the United States from accessing any such services and software provided by Boss Media.
"A ban on Internet gambling payment processing in the United States will affect Boss Media's net sales and earnings. When Boss Media published its interim report for the period January to June 2006, the company stated that the operating margin (EBIT margin), adjusted for non-recurring items, was expected to be no less than 15 percent for 2006. If the bill prohibiting Internet gambling payment processing in the United States is passed shortly, the operating margin, adjusted for non-recurring items, is expected to be 10 to 15 percent for 2006."
The other major player in Europe is Microgaming, based in the Isle of Man. It is the biggest of the generic poker platform providers, under the brand Prima Poker, with nearly 50 different poker "skins" in operation. Major UK sites using it include Bet365 Poker, Purple Lounge Poker, 32Red Poker, Boylesports Poker and Stans Poker.
Microgaming's website currently makes no reference to the latest US developments but does make the following (now under threat) comment about the US online gaming market under the heading "Key Markets":
"The largest single online gaming market today, with an estimated 4 million-plus customers. Analysts forecast that its share of the total market will decline as operators successfully penetrate other regions, but they also predict continued strong growth.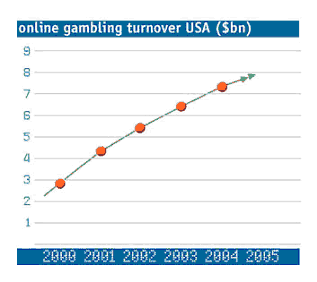 "This graph (ed: shown above) shows turnover from the US online gaming industry growing at a compound annual rate of 21% to reach its current total of over $7.6 billion."
Clearly, this statistic is about to change seismically!
Ed note: UK players can download EuroPoker for some great European poker and grab a handy $150 bonus