Paddy Power Puts the Frighteners On!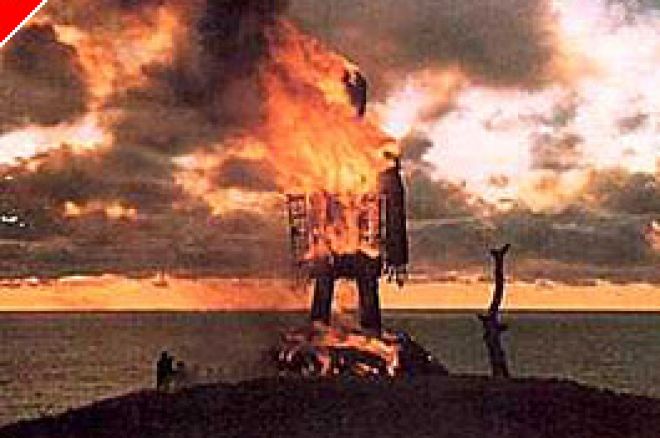 Just when you thought it was safe to go back online, along come our maverick friends from Ireland to give us a bit of a shock! They might be unorthodox to look at but the team at Paddy Power Poker know how to throw a party that is just a little bit off the trodden path.
In case anyone has forgotten, Paddy Power Poker wish to remind us that the season of Hallowe'en is upon us. To celebrate the forthcoming horrors, they have spirited a bundle of guaranteed cash onto the poker tables for everyone to win in special tournaments in the week leading up to the day itself. Then, on Tuesday, 31st October, we are invited to open our eyes and face the prospect of an All-Day fest of poker action with several unspeakable guaranteed tournaments - including a freeroll with a $12,500 Las Vegas package on offer, and more besides!
The "more besides" includes an all-day-long Ghastly Hand Promo that will be lurking in the shadows waiting for victims. You will win $100 every time you showdown the winning hand while holding the 7 of spades and the 2 of hearts. Aaaaargghhh!
It's no good, we can't go on any longer. The best we can do is show you the full uncensored list of treats on offer at Hallowe'en. Better to sample the treats than suffer the consequences of a nasty trick. All times are GMT (ie, after the clocks go back)
Hopefully there is enough here to keep your hair standing on end in trepidation or excitement. Now, where is my DVD of The Wicker Man…………?
All Day:
Ghastly Hand Promo
$100 for 7s and 2h winning hand.
07:00 – 09:00
Return of the Living Breakfast Dead Special.
There will be 10 themed questions on Ghouls, Goblins and all thinks scary. This will include witch-hunts, staking the vampire, spells and general ghoulish mayhem. There is $20 to be won for each correct question – only one prize per player. Includes one question giving entry into the Poker 'Scary' Face Freeroll (space permitting) with $12,500 package on offer (20.00)
10:00
Ghosts 'n' Ghouls Bounty – $3,500 Guaranteed Rebuy.
The player who knocks out 'Tutiuillus' wins a selection of Halloween DVD's and CD's or Amazon voucher ($100) or cash equivalent ($100)
14:00
Witches and Warlocks Bounty – $5,000 Guaranteed Rebuy
The player who knocks out 'Satan' wins a selection of Halloween DVD's and CD's or Amazon voucher ($100) or cash equivalent ($100)
16:00
Poker 'Scary' Face Speed Freeroll Satellite
If you make the final table, you win a seat into tonight's Poker 'Scary' Face Freeroll at 20:00. 100 action points requirement. Seats subject to availability
20:00
Poker 'Scary' Face Freeroll – $12,500 Package for Winner
The winner of this freeroll will be sent to the Pokerface 2007 Grand Final at the Golden Nugget in Las Vegas ($12,500 Package)! The winner of Pokerface 2007 will receive a $200,000 prize package as a paid up Paddy Power professional poker player!
22:00
Halloween 'Added' MTT - $1 Speed Rebuy with $2,000 added!
The winner gets a seat in the 26th November Pokerface 2007 Grand Final qualifier. The player who finishes on 'The Bubble' receives a seat in the 25th November WPT Grand Final qualifier.
23:45
Trick or Treat Tourney – $3,000 Guaranteed Rebuy – Speed.
There is an additional prize for the winner – a free entry into the $100,000 guaranteed MTT for the month of November.
Ed note: Be a demon and play for all these fabulous prizes! Download Paddy Power Poker and make those easy 100 PP points to enter the Poker 'Scary' Face freeroll