Loose Cannon Presents £5,000 Added Poker Grand Prix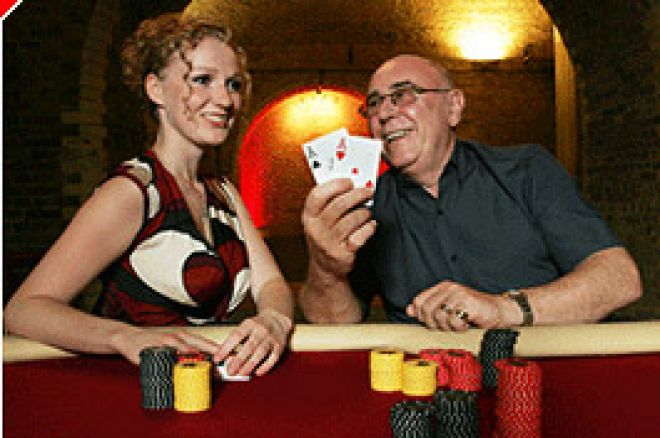 As first revealed back on 9th September by UK Poker News, the legend in London poker circles that is Roy Houghton is about to throw open the doors of his brand new members' games room in the City of London, offering a new and varied experience for games players including high quality live poker with absolutely no raked pots in cash games and no tournament registration fees; just a membership fee.
As also mooted at the time, there will be an initial period of "Founder Membership" at bargain prices, and it is to those forward-looking players that "Loose Cannon Sports Bar and The VC Players Lounge" is giving an opportunity to participate in a superb value added poker Grand Prix tournament.
Loose Cannon's sponsoring partner Victor Chandler, the operator of online platform VC Poker, is adding a very generous £5,000 to the prize pool of the Founder Members Grand Prix. This No Limit Texas Hold'em tournament series begins on Tuesday 7th November, costing £50 to enter, just 1% of the amount added by Victor Chandler. That evening will be the first of four qualifying weeks of the Grand Prix, with the Grand Final taking place on the 5th week. It is only open to the club's Founding Members, but there are just ten days left in which to become one.
Before the Grand Prix begins, the club officially opens its doors on Tuesday 23rd October launching with one of Roy Houghton's special creations, a Two-Tier No Limit Hold'em Freezeout. You buy in at either £50 or £100 but everyone gets the same number of chips and plays for the same cash spots. The twist is in the distribution of the prizes; sounds like good fun but a head for numbers might be in order!
Another attraction of the Loose Cannon is having Victor Chandler in support. There are sure to be many and varied opportunities for VC Poker online players to qualify to play at the Loose Cannon.
Founder Roy Houghton said:
"This is a totally new package, especially for the poker players. We sincerely believe the venue and the effort we have put into it will provide players with the facilities they deserve. By offering an initial founder membership scheme that will not place any restrictive price barriers on anyone, it will allow a good period to access and experience The Loose Cannon. The response has been very positive and I am hoping our Grand Prix will be a sell out. This period will not only give members time, but will allow us to formulate an events calendar that will suit those who attend. We will offer plenty of variety and value. As the interest from the City's business sector has been huge, we will be running the "Take Sport City Poker League" from Wednesday 1st November 2006 which will provide for a unique Wednesday night's entertainment."
As alluded to above, to enter the Founder Members Grand Prix at The Loose Cannon club, you will need to register for membership in the next ten days. The Founder Membership Fee is £18 for 3 months, and each time you attend the club you will pay a £5 admission charge to enter the premises. There will be no charges whatsoever for any games you play in the club, no matter how long you play for. A full membership system will be available by 23rd January 2007 which will offer 3 levels of entry; Bronze, Silver and Gold. Those who have attended as Founder Members will decide what package will suits their preferences.
Further information is available at www.loosecannonclub.com or email can be sent to members@loosecannonclub.com.
Ed note: Claim $35 cash free, no strings attached, by downloading VC Poker right here!