Free Money for UK & Ireland Players at Party Poker

Paul Sandells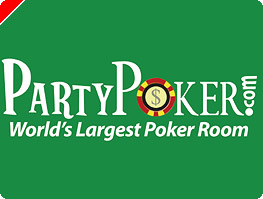 UK Poker News is delighted to announce a superb new promotion - "Receive an instant $50 in free cash plus another $25 from UK Poker News!" in your new account at Party Poker.
Please note: This promotion is intended only for residents living in the United Kingdom, Isle of Man, Channel Islands and Republic of Ireland. Nationals of other countries will not be eligible.
All you have to do to collect the bonus is download Party Poker via the special UK Poker News links and register using our bonus-code UK50FREE. Then you complete the registration form and wait until our representative calls you to ask some routine security questions. Once done, $50 cash will be transferred to your Party Poker account. With your $50, you will be able to play on the real money tables at the largest and most prestigious on-line poker room in the world.
That's not all. After playing 750 raked hands during the 90 days from the creation of your account, Party Poker will automatically transfer to you an additional bonus of $25. At this stage, having played 750 raked hands, you will also be free to manage the cash in your account, including making withdrawals and transfers to other players, etc.
So, waste no more time! Register with Party Poker using bonus code UK50FREE, and you will get an instant $50 free plus another $25 bonus!
Remember, NO DEPOSIT is needed to receive the bonus!
Here's your step by step guide to getting the free cash:
Step 1
Read the Terms and Conditions of the promotion and download Party Poker through the UK Poker News links.
Step 2
Register for Party Poker using our bonus code UK50FREE.
Step 3
Complete the registration form and wait for confirmation.
Step 4
Following confirmation, UK Poker News will transfer $50 to your account.
Step 5
Play 750 raked hands and Party Poker will transfer a further bonus of $25 to your account.
Visit our Party Poker Bonus page here for full detailed information.
Ed note: Take advantage of this great promotion today. Just download Party Poker and use bonus code: UK50FREE when you register