European Rankings: Arshad Hussain Pulls Clear

Paul Sandells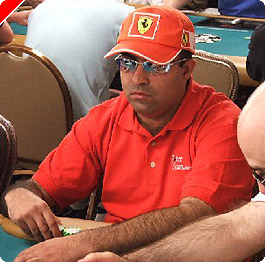 As the race for the European Rankings enters the home straight, one runner has stretched a few lengths clear of the chasing pack, Arshad Hussain. The 32 year old from Accrington, Lancashire now looks a strong favourite to claim this years title.
Hussain has had an outstanding year in Europe so far. In March he was an unlucky second to Jeff Williams at the European Poker Tour final in Monte Carlo, pocketing a massive €492,000 in the process but, more importantly for his European Ranking status, he collected 2310 ranking points. This added to his 6th place from a £500 Double Chance Freezeout event at Birmingham's Broadway Casino in February, where he picked up £2,400 and 270 ranking points.
After his Monte Carlo result Hussain quickly became a familiar face on the European circuit. The results kept rolling in. In April a win at The Merrion Club in Ireland saw him bank just under €40,000 and add another 900 points to his European Rankings tally.
In June, Arshad headed north to Scotland, picking up two second places at Gala Maybury Casino in Edinburgh. Another 660 points were added to the European Rankings total. The man from the "red rose county" wasn't finished there, though.
In July he finalled in Brighton. £7,700 and 440 European Ranking points were the result of his 3rd place at The Rendezvous Casino. In August, he scraped into a final in Luton for another 202 points. By now, Hussain was leading the rankings, but a cluster of European big guns were on his tail. Julian Thew, the fearsome Luke Patten, Marc Goodwin, Ian Woodley and Paul Jackson were all within touching distance. Not to mention Mickey Wernick, the current European Rankings champion.
Last weekend Hussain headed to Liverpool for the LEO Casino Liverpool Challenge. It was here that Arshad put some distance between himself and the other runners. After winning the £250 Freezeout event, he added another 750 points to his European Rankings total and another £10,000 to his bank balance.
The gap between Arshad in first and Julian Thew in second is now in excess of 1,000 points. Leaving Thew a big result away from catching the current leader.
The European Rankings are by no means over yet. There are still many thousands of points on offer all over Europe. However, with Arshad's current form and with points already "in the bank" it seems one more big result could put things to rest for the Lancastrian.
The European Rankings top ten currently stands at:

1. Arshad Hussain - 6022
2. Julian Thew - 4922
3. Mats Iremark - 4825
4. Luke Patten - 4512
5. Marc Goodwin - 4497
6. Ian Woodley - 4420
7. Iwan Jones - 4277
8. Mickey Wernick - 4107
9. Paul Jackson - 4065
10. John Kabbaj - 4020
Ed note: Play in a huge live event yourself when you download 888 Poker and qualify for the Aussie Millons in our FREEROLLS