EPT Dublin Day 2 - De Wolfe in Sheep's Clothing

Nicky O'Donnell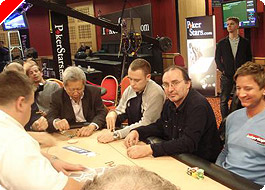 Roland De Wolfe goes into today's Pokerstars Dublin EPT final table at the Regency hotel with over 30% of the chips in play and has only seven opponents standing in the way of his first EPT title. He has kept a vice like grip on the chip lead since gaining it early on the second day's play and it's going to be pretty tough for anyone to take it away from him. Best equipped is second in chips, William Thorssen, who has also been very impressive all day, but Thorssen is nowhere near as good a finisher as De Wolfe and will need to play well above his previous best to upstage the 2005 Paris WPT champion.
The seating draw for the second day's play created some of the toughest tables seen this year in European tournament poker. Willie Tann was sandwiched between Irish stars Andrew Black (who began the day by eliminating two players) and David O'Callaghan. As if that wasn't enough, William Thorssen (who was 13th in the WSOP 2006 main event) joined them with almost three times the average stack. Two young Irish stars, David Murray (who was 47th in WSOP 2006 main event) and Eoin Olin, also joined them making this a real "table from hell", so there were no surprises when this was made the feature table after the third level of the day's play. However, it didn't feature O'Callaghan who was looking to steal the blinds early and pushed with 55 when the big blind had Kings.
Marcel Luske continued his battle against Vinny McNamee as the pair were drawn side by side, but while McNamee trebled up in the first hour, Luske made an early exit when his JQ was no match for 88 on a 4-T-9-6-4 board.
Roland De Wolfe and William Thorssen were the early movers, both pushing their stacks up to over 200K, with blinds at 1,000/2,000 and 50 players remaining. Thorssen was dominating the feature table all day but Andrew Black was determined to be the table captain. As a Dutch player took his seat Andy immediately asked "Where are you from?". "I'm from Holland, and you?". Andy's reply was "I'm from Ireland, I actually live in this room!"
Black was not having a good day however and in one hand he was called down by Thorssen with Ace high and lost. I feared that this might cause Andy to have one of his trademark meltdowns and unfortunately he did. After heavy preflop action, Black pushed all in with 99 and was called by Thorssen with KK. Thorssen hit a set of Kings on the turn, but Black rivered a 4 card flush with the Ace of hearts to win a pot of over 200,000. Yikes!
After the dinner break, we were down to 39 runners with blinds at 2,000/4,000 and we had a new feature table with Roland De Wolfe now leading the field on 350,000. Willie Tann appeared to have the next biggest stack on 260,000 and despite Thorssen's earlier clash with Andrew Black, he was sitting on 195,000.
As the bubble popped and we were down to 32 players, the cameras followed a very upset Andrew Black as he exited the tournament area, astonishingly as the bubble boy. Thorssen got his revenge when he flopped a set of 9s against Andy's AK on an A-9-4 flop. There was an Ace on the turn so it was highly unlikely Black would have ever been able to get away from the hand.
With Black gone, faith in an Irish win was fading, and hopes now lay on the experienced shoulders of Roy Brindley (80,000) and George McKeever. Other Irish hopefuls were Pat O'Callaghan, (140,000), Vinny McNamee (120,000) and Conor Doyle (100,000). McNamee was to later knock O'Callaghan out of the tournament on the feature table in 20th place.
With 25 players remaining, a number of Swedes were looking to emulate their countrymen Mats Gavatin's and Henrik Olander's 1-2 in Dublin last year. Kashi Kambiz, Magnus Jakobsson, Karin Lundgren and amateur Simon Ehne (who you may have seen on this year's Late Night Poker Ace) were all looking comfortable. Lundgren was the only remaining female player which was no surprise to me having played with Karin this year in Las Vegas. She is a highly aggressive and feared player in Europe and overdue for an improvement on her 20th place finish in Copenhagen back in January. Unfortunately she made her exit in 22nd place when making a stand preflop with A-6 suited and walking into pocket queens.
Adopted Irishman Roy Brindley went out in 17th place when losing a race which left only two players flying the home flag. George McKeever was the only one of the two to make the final table despite playing the short stack for seemingly the entire event, as Vinny McNamee went out in 15th position.
The most popular man in the room, the always smiling Willie Tann, was the TV table bubble boy when he was forced to move in with AJ and walked into De Wolfe's AK and didn't improve.
The final table will begin at 3.00pm today (Sunday 29th October) and will play to a finish at the Regency Hotel.
Here are the current chip counts and also the money finishers.
Roland De Wolfe (UK) 1,352,500
William Thorssen (Sweden) 773,500
Gavin Simms (UK) 442,000
Rob Young 365,000
David Taverner 360,500
Nick Slade (UK) 269,000
George McKeever (Ireland) 194,000
Patrick Bueno (France) 140,000
1st €554,300
2nd €314,120
3rd €184,720
4th €138,580
5th €112,710
6th €88,690
7th €70,210
8th €51,740
9th Willie Tann €31,400
10th Finnur Hrafnsson (Iceland) €31,410
11th Marcel Baran (Germany) €25,870
12th Christoffer Stahle (Sweden) €25,870
13th Luca Pagano (Italy) €20,330
14th Paul Testud (France) €20,330
15th Vinny McNamee (Ireland) €14,780
16th Conor Doyle (Ireland) €14,780
17th Roy Brindley (Ireland) €11,090
18th Simon Ehne (Sweden) €11,090
19th Jonas Helness (Norway) €11,090
20th Pat O'Callaghan (Ireland) €11,090
21st Kevin Vreeswijk (Holland) €11,090
22nd Karin Lundgren (Sweden) €11,090
23rd Ray Coburn (USA) €11,090
24th Kashi Kambiz (Sweden) €11,090
25th Ara Melikian (USA) €7,390
26th Marc Goodwin (UK) €7,390
27th Magnus Jacobson (Sweden) €7,390
28th Walter Alecci (Italy) €7,390
29th Rune Nicolas (Norway) €7,390
30th Adrian Walshe (Ireland) €7,390
31st Dave Clayton (UK) €7,390
32nd Johnny Lodden (Norway) €7,390
Total Prizepool €1,847,750
Ed note: You can play for a $1,000 Bonus when you download Mansion Poker and also qualify for the $2,000,000 Poker Dome in Las Vegas.