EPT Dublin Day 1B Report

Nicky O'Donnell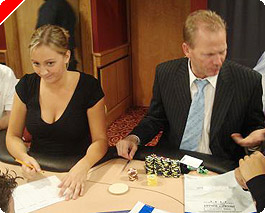 There were quite a few familiar names in today's 208 player field for the second starting day of the Dublin EPT. This meant there were some interesting pairings as top pros were drawn together. London EPT Champion Victoria Coren faced the Devilfish but Vicky was taken out very early when her pocket Aces were no match for Iwan Jones' 67o. Other battles featuring household names were Marcel Luske Vs Simon Trumper, Barney Boatman Vs Tony G and a scary table of death with Steve Vladar, Willie Tann, David O'Callaghan and Padraig Parkinson all sitting side by side. Yuck!
Julien Thew drew an interesting table of 8 Scandinavians including Finland's Juha Helppi. Thew was to last only 4 hours though and made his exit shortly after getting shortstacked with Tens in the big blind by running them into the button's Kings.
Greg Raymer got into trouble early and eventually met his end on level 3 when he ran A-T into Phil Peter's A-Q. The Hendon Mob's Joe Beevers and 2004 Champion Ram Vaswani were also both sent for early baths as were David Colclough, Julian Gardner, Barney Boatman and the Devilfish.
Tony G was given a warm Irish welcome by 78 year old Irishman Sean Fagan who seemed intent on putting the Aussie on tilt. There were unconfirmed reports that Sean put in half his stack against Tony and showed 7 high, then told Tony he saw him do it on TV. I went to the table to find out the truth and Sean said he'd never have a hand as strong as 7 high! The Aussie wasn't easily flustered though and despite playing very well all day and being forced to make several big laydowns he lost what appeared to be the first race he got involved in with 88 Vs AJ and was knocked out of the tournament.
Marcel Luske dominated his table for most of the day but bled off a large part of his stack later on. Pokerstars must have been happy with his performance as, by a miraculous coincidence, he drew seat 1 at the table directly in front of the largest Pokerstars banner in the room. On one occasion as I approached his table, I saw a 55K pot after a showdown with all of Ireland's Vinny McNamee's chips in the middle and most of Luske's. Vinny looked upset and as the dealer started passing chips Marcel's way I was wondering why he was still sitting down. Then the dealer passed him the other half of the pot! On a 2-2-K flop, Luske check raised and Vinny then went all in. Luske said he put him on AK but called because he thought a Ten, deuce or King would come. A 2 landed on the turn! What a player.
Swedish Star William Thorsson finished as the day's chip leader on 105K. We had 59 players remaining and later today they will join the 49 players from day 1A and play to a final table which will be played on Sunday 29th. The winner will receive €554,000.
Here are there current chipcounts combining Days 1A and 1B:
Jonas Helness 117,400
William Thorsson 106,700
Marc Goodwin 98,200
Kevin Vreeswijk 83,900
Paul Testud 77,100
Roy Brindley (Ireland) 71,600
Roland De Wolfe 70,700
Stuart Fox 69,800
Conor Doyle (Ireland) 69,600
Andy Black (Ireland) 69,000
Joakim Hammar 66,500
Hans Eskilsson 64,600
Simon Ehne 61,700
David Clayton 61,100
Adebayo Odetoyinbo 58,900
James Kerrigan 57,500
Andreas Hagen 56,100
Ara Melikian 54,800
Karin Lundgren 54,700
Nick Slade 52,600
Azad Pirooti 50,100
Jeffrey Garza 50,000
Luca Pagano 49,300
Fergal Mckeever 49,200
Steffen Kongelt 47,500
Peter Gould 47,200
Eoin Olin (Ireland) 47,100
Philip Peters 46,700
Patric Bueno 46,500
Paddy Mccloskey (Ireland) 45,800
Johnny Lodden 44,900
Ravi Udayakumar 44,600
Neil Channing 43,600
Ramzi Jelassi 43,100
Tore Lagerborg 42,200
Maximilianos Trigas 41,800
Walter Alecci 41,000
Christoffer Stahle 40,900
Gavin Simms 39,700
Katja Thater 39,500
Rune Nikolaisen 38,000
James Reid 37,200
Martin Wendt 37,000
Rob Young 36,700
David Pomroy 36,400
Willie Tann 36,400
Jimmy Dahlquist 35,700
Jonathan Lewis 35,100
Rob Hoopman 34,000
Pat O'Callaghan (Ireland) 33,000
David Murray (Ireland) 32,800
Jeppe Juhl 32,700
Niklas Walgren 32,000
Marc Friedmann 31,800
Patrick White 31,800
Magnus Jakobsson 31,500
Nadir Benkahla 29,700
Vinny McNamee (Ireland) 29,100
Reyaaz Mulla 29,100
Nick Gibson 29,000
Nichlas Saarisilta 28,400
Kambiz Kashi 28,200
Ches Denison 27,500
Simon Nowab 26,800
Jonathon Kreisner 26,300
Anders Berg 25,800
Anders Losvik 25,600
Ray Coburn 25,400
David Barnes 25,200
Andreas Vilson 24,700
Sasha Rosewood 24,400
Marcel Baran 24,200
Marcel Luske 24,000
Stuart Rutter 24,000
George Mckeever (Ireland) 23,800
Roland Xavier 22,700
Oliver Bosch 22,400
Gerald Lemke 22,300
Robert Taylor 22,200
Finnur Hrafnsson 22,000
Michael Rabenseifner 21,600
Michael O'Sullivan (Ireland) 21,400
Piero Compagnoni 21,000
Thomas Fougeron 20,800
Daniel Ryan 19,400
Daniel Wadman 19,300
Jon Priston 19,100
David Tavernier 18,600
Roman Makowski 16,500
Adrian Walshe 16,500
Christopher Swanstrom 16,000
Sean Donaldson 15,100
David O'Callaghan (Ireland) 14,700
Robert Binelli 13,200
Julian Grosjean 13,200
Ian Mctavish 12,800
Age Spets 12,800
Christoffer Sonesson 12,500
roi Elmaliah 12,000
Padraig Parkinson (Ireland) 12,000
Markus Deijfen 11,100
Noah Boeken 10,800
David Atrubin 9,800
George Geary 8,700
Ghite Anderson 8,400
Thomas Heining 8,200
Johan Storakers 7,600
John Gough 6,600
Pascal Perrault 5,300
Ed note: Use code PNEWS1 and download Everest Poker to qualify for $100 bonus