EPT Dublin Day 1A - Irish Eager to Impress on Home Turf

Nicky O'Donnell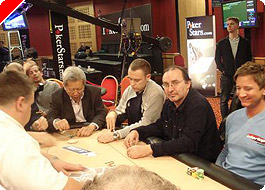 The Pokerstars Dublin EPT main event, also known as "The Irish Masters" is a title yet to be won by an Irish player. Instead the Irish have had to settle for minor placings in the form of Rory Liffey, losing heads up to Ram "Crazy Horse" Vaswani in 2004 and Joe Rafferty who was unlucky to only manage 4th in last year's Swedish massacre on Irish soil after getting all his chips in with a set at the final table, getting called by a player with Ace high and no obvious draw and losing to a runner runner straight.
Ireland is desperate for one of its players to win a major event. It's been quite a while and it's going to be very difficult for them this year with an increasing number of foreign players making the trip to Dublin. They may be well outnumbered but with weapons like Donnacha O'Dea, Padraig Parkinson, Roy Brindley and Andrew Black in their arsenal they are well equipped for battle. There is also a refreshing breed of young Irish talent emerging and it's from this group of players that I suspect we will see Ireland's best performance. David O'Callaghan is well capable of improving on his second in Barcelona two years ago and his recent performances in Ireland suggest he is peaking at the right time. Rob Taylor and David Murray both come into this event on the back of impressive performances at this year's WSOP main event. Taylor, who has not stopped winning tournaments in Dublin throughout October, is now playing poker full time and it would not surprise anyone in Ireland in the slightest if he was to win this tournament at his first attempt as a professional.
The Regency Hotel was a strange choice of venue for this event. It's quite a poky, dated hotel with thin mazy corridors. The reception area is packed when 4 people are at the desk. The nearest ATM is a 7 minute walk in the rain which, considering there is a lot of cash game action happening here over the weekend, is extremely inconvenient. Even more inconvenient was the lack of water experienced by its guests on Thursday morning. Considering rooms start at €110 per night - not including breakfast – it's just a little bit rich for travelling poker players to put up with. In fairness to the Regency, they did put on a free bar between 10 and 11pm as an apologetic gesture, but if I had to choose between having a shower in the morning and a free bar well I'd…well I'd better not answer that!
In the early jostling for position, an incredibly bizarre hand developed between Roy Brindley and an unknown player who understandably wanted to remain that way. Roy raised to 200 under the gun with J-9 of clubs. It was folded to the Big Blind who reraised to 700 and Roy called. The fop came club-club-club. The BB leads for 700, Roy raises to 2,800 and the BB then moved all in. Brindley called with his jack high flush and his opponent turned over 7-2o. To be fair, he did have the 2 of clubs!
While keeping an eye on proceedings in the tournament area, I bumped into Padraig Parkinson who was entertaining a prize winner of a recent text competition where first prize was to spend a night at the Dublin EPT with Padraig himself. So, as part of the entertainment for the night, Padraig organised a Sit n' Go with his guest, myself, WSOP bracelet winner Greg Raymer, Karl and Brendan from Paddy Power Poker and Jesse May who also dealt the game, probably so that he could be sure of an active involvement after he was knocked out. Padraig generously put up a massive €50 prize pool for the invitational free roll which was won by the "Fossilman" after a huge suckout with 3-5 offsuit heads up with Karl Hutson!
Back to the main event and as the field was whittled down to just 49 players, Norwegian Jonas Helness, who finished second at last year's London EPT, was crushing his table and opening up a clear tournament chip lead. In-form Marc Goodwin is second in chips but Ireland have strong players in comfortable chip positions with Andrew Black and Roy Brindley sitting on 72K and 69K respectively.
Day 1A chip leaders are:
Jonas Helness (Norway) 117,400
Marc Goodwin (UK) 98,200
Kevin Breesey 83,900
Paul Testut (France) 77,100
Roy Brindley (Ireland) 71,600
Stuart Fox (UK) 69,800
Andrew Black (Ireland) 69,000
Joakim Hammar 66,500
David Clayton (UK) 61,100
Jim Kerrigan (UK) 57,500
These players will join the remainder of the players from Friday's Day 1B field on Saturday October 28th and play down to a final table which will be played on Sunday the 29th.
Check back with UK Poker News for more updates from Nicky O'Donnell as the EPT Dublin progresses to its conclusion
Sample more Irish delights by downloading Paddy Power Poker and win a $12,500 seat in Las Vegas through the Hallowe'en Freeroll on 31st October