Tournament Director: APAT English Champs

Mel Lofthouse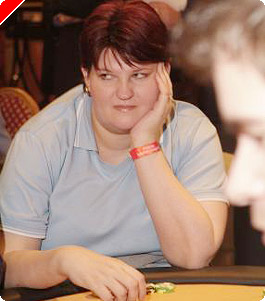 Our 1st event was held at the weekend at the Broadway Casino, Birmingham and what a successful event it was!
The biggest issue we faced was too many people who wanted to play, which is a great thing to have! Our 2nd event, which will be a much bigger venue in Scotland, should accomodate more players.
The tournament started bang on time at 3pm. 120 entrants all started with 10000 chips on a 40min clock for this 2 day event. I had specifically created the timing and chip structure to aid creative play by our amateur players and to also allow for them to play a deep stack tournament for just £75.
During the first level no rulings were needed. It was only during the 2nd level that we actually lost a player - quite surprising really as in most big tournaments you normally lose at least one player in the first level, but it seemed that our amateurs were there to play and not to lose lots of chips.
I was helped by Raj, Keith and the great Broadway Casino Poker team in the smooth running of the tournament.
Tony Kendall, APAT Chairman, did a big speech before the tournament started, he said, "It's a really nice touch for people to clap when a player goes out of the tournament and it really worked. Players were fun to watch, everybody was chatting at the table and what's great is that it was a fun and friendly atmosphere. When it's your first time playing in a live game (which for about 20 of our players was) it can be very daunting."
My first ruling was on the 5th level. A player who I've played poker with through one of the forums I post on was involved in a pot with the chip leader of the tournament. We had nicknamed table 5 "the table of death" as 5 people had already left the table empty chipped. "RookieITB" was up against the chip leader who had about 60000 chips at the time. The flop was Q 10 8. "Rookie" had bet and chip leader had re-raised. "RookieITB" had been thinking for about 2 minutes and I warned him that I was putting a minute clock on him to think and make his decision. I counted down and told him 30 seconds remained, then 15 seconds remained and finally he re-raised, all in, the chip leader instantly called and showed J9 for the straight. "RookieITB" had the top 2 pairs Q10, turn and river no help.
My 2nd ruling was on the 7th level:
Player 1 bets 800, Player 2 calls 800 and player 3 is all in for 1100.
Player 1 says I'm all in.
The dealer then shouts me over. I tell player 1 that he cannot re-raise as player 3 made an under raise which means that his bet was less than 50% of the previous raise, so player 1 and player 2 can only flat call the bet or fold. Both players flat called. The end result was player 3 winning the pot with pocket Kings.
I also had to do two similar rulings on the final table.
Our final table, when heads up, lasted just 2 hands. The final hand was a board of 2 2 6. Player 1 bet, player 2 went all in, player 1 called with 2 pairs. Player 2, Daniel Phillips, held a set of 2's which held up. He won the tournament and also a seat into the European Poker Tour in Copenhagen
Ed note: Want to play live poker? How about a free seat in the Aussie Millions? Just download 888 Poker to qualify