Interview With Steve Bellis of The Nuts Poker League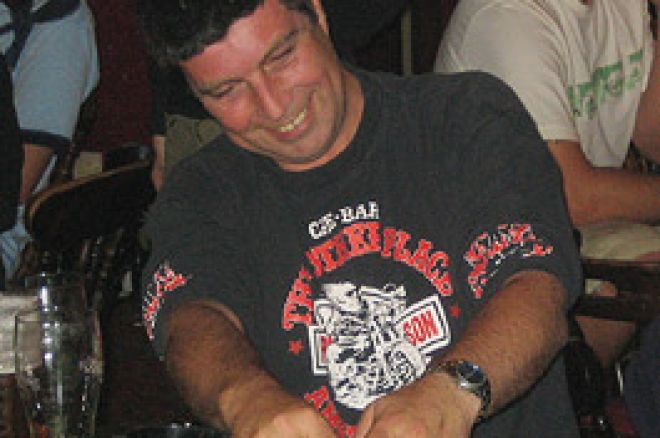 As many will have seen if they are fans of the TV programme "The Dragon's Den", poker nut Steve Bellis managed to wring £65,000 out of the Dragons in aid of his business, The Nuts Poker League. At UK Poker News, we are always encouraged when something good happens to help poker in the UK so we contacted Steve Bellis to find out more:
UKPN: Hello Steve and thanks for talking to UK Poker News.
SB: Hi, Glad to speak to you too.
UKPN: First things first, before getting on to the recent excitement of the Dragon's Den, can you cast your mind back to the conception of The Nuts Poker League – how and when did the idea manifest itself and take root?
SB: I saw the idea on a trip to Canada in October 2005 to see my father and thought "that's just what the UK needs!". So, being an enthusiastic poker player and having the energy, I started The Nuts Poker League in November 2005. They do things differently in Canada and the USA, so I used the concept and started from scratch, learning as I went along.
UKPN: Did you have teething problems getting the vehicle off the ground, legally and practically?
SB: Of course, the current UK gaming law was formed without ever thinking that poker would be on UK shores. There are so many grey areas in the current legislation that it is difficult to get a definitive answer for anyone. As I see it, if a player is not playing for money, then how can they gamble?
The initial teething problem was the sheer scale of interest, but I have managed to get through it all unscathed.
UKPN: In which location or area did The Nuts Poker League first develop strongly and has it since spread purely by word of mouth?
SB: We first started in Wrexham, North Wales, and quickly spread by word of mouth to Deeside, Shropshire, Cheshire, Manchester and Watford. Now, with the recent publicity, we have enquiries from all corners of the UK, Holland, France, Falkland Islands, Spain and the Army and RAF.
UKPN: We note that you have recently acquired the sponsorship of William Hill Poker for The Nuts Poker League. Was this a development entirely independent of the Dragon's Den fund-raising idea or were the sponsors encouraged to sponsor you because of your serious efforts to raise funds? What are William Hill expecting of you and what are they expected to do for the League?
SB: Yes, the deal was done before the Dragons Den episode. They are offering prizes to the players for the advertising opportunity on the web site. Clearly they are not doing this out of the kindness of their hearts, they expect players to download their software and play on their site. The recent publicity and interest nationwide has now moved the goal posts in a positive way, so it is safe to assume that they will wish to discuss the most effective way forward for Will Hill, TNPL and especially our players.
UKPN: The next logical question – for those reading this who missed the TV programme - is why does the League need the funds raised and, having acquired them, how does this alter the outlook for the League?
SB: For any business to grow it is essential that cash is injected. Cash is king in any business and it is very easy to over trade and go into a negative cash flow, so the additional cash should plug the gap. The funds are needed for additional tables, chips, cards, dealer buttons etc as well as back end web site development. I also need to employ someone to help with this growth.
UKPN: What inspired you to apply to Dragon's Den and was it a case of pot luck that enabled you to book a slot, assuming there are hundreds of businesses seeking funds? If you hadn't got in, how would you have approached fund-raising assuming it was vital?
SB: Im afraid I was not inspired at all to go on the show. It was all chance. A friend sent an email to me with a "Dragons Den" attachment on it and I left it in my in-tray for about 2 months. I decided to clean up my in-tray and came across the old email and decided to open it thinking it was a Welsh show! I filled in the forms and sent them off and received a phone call after 5 days inviting me to go to Manchester for an audition.
All went well with the audition and I was contacted again to go to London for the recording. I then realised what the show was all about and just caught the last 10 minutes of a repeat before setting off for London. The Dragons were quite nice on the 10 minutes I saw so I thought it would be a breeze. I did not even have a pitch to practice with the other hopefuls. The rest is now history.
UKPN: Can you give us a flavour of what it was like to appear on the programme, what it involved. Do they make a point of putting you through the wringer!
SB: I have to say that I am glad I did not realise what the show was really about. If I had I may have had second thoughts. The whole atmosphere was intimidating and not really an ideal environment to conduct business. However, if you believe in a business you need to be confident with them or they will chew you up and spit you out. They do make a point of being aggressive and provocative, to the point of bullying at times, but if you have a business you believe in and the right attitude, the Dragons can be tamed.
UKPN: Finally, Steve, can you summarise for interested readers what The Nuts Poker League offers its participants and members and how should a newcomer go about getting involved?
SB: We offer a great night out where you can play Texas Hold'em against people from all walks of life and age ranges. You can turn up at any venue, register and get playing. A lot of our players have expanded their social circle and find it easy to make new friends at our events. Players can check their results and league position on the web site www.thenutspokerleague.com and see where the next events are.
UKPN: Steve, thank you very much for your time, and UK Poker News wishes you well for The Nuts Poker League.
SB: Thank you too. ALL IN……….
Ed note: Play with the league leaders by winning an exclusive Team Poker News Aussie Millions package when you download 888.com Poker.