D'oh! - Flanders Stuns Stars at World Poker Open

Paul Sandells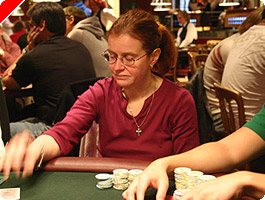 Pippa Flanders, wife of poker player Tim, has won the World Poker Open to claim one of the largest prizes for a female on European soil. Flanders, from Preston, Lancs took home $200,000 with her title.
With only two females from the field of seventy taking part, it looked long odds that a lady would claim this years PartyPoker.com World Open II. However, Pippa Flanders, a mother of two, was simply too strong for the rest of the star studded field. Pippa kept 'Eemore', her 22-year-old daughter's cuddly stuffed toy donkey at the table as a good luck charm. She made mincemeat of her opponents, making one or two look like donkeys themselves!
Also competing for the title and the large cash prizes were Tony G, Roland De Wolfe, Marc Goodwin, Tony Bloom, Kenna James, Harry Demetriou and last year's champion Lee Nelson.
They were no match for Pippa, though. Husband Tim, who is a well respected player himself, watched on to support his wife throughout.
Pippa enthused, "To have been one of only two women who entered amongst over 70 entrants and to have won it is simply unbelievable and wonderful. Go girls!" exuded Flanders, who is mother to Charlotte, 22 and Christopher, 25. "I had a fantastic time playing the game and it was such a wonderful ending that I had always hoped for, but never expected. I still can't believe I beat all those top names to the title. It really is a dream come true."
Pippa's total career tournament earnings amounted to only $42,000 over four years up until her success here. She and her husband are both trying to make a living playing the European circuit. She considers Tim, whose total career earnings are approximately $240,000, the better player.
Over 70 top players who paid a $7,000 buy-in, plus a dozen online players--some who invested as little as $10 on PartyPoker.com online qualifiers—played down to the final six at The Poker Den in London. Some familiar British celebrities also tried to gain a seat at the table, including England rugby union star Matt Dawson; EastEnders' stars Billy Murray (Johnny Allen) and Michael Greco (Beppe di Marco); Norman Pace, actor/comedian and one half of the hit comedy team Hale and Pace; Steve Backley, three-time Olympic medalist in the javelin, and Zoe Anderson, actress, model and leading pin-up girl (The Sun, News of the World, OK).
PartyPoker World Open II, which boasted a $504,000 total prize pool, is televised over 16 weeks later this year on the Channel 5.
Ed note: Take on the big boys with your new $1,000 bankroll when you download Mansion Poker