Interview with Padraig Parkinson

Tony Bromham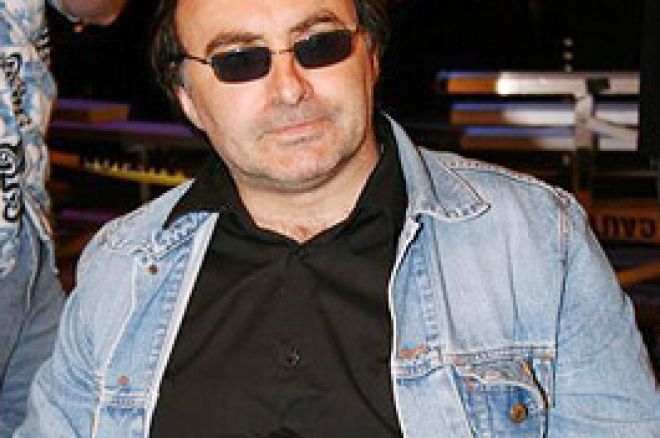 It is with pleasure that UK Poker News welcomes back Padraig Parkinson, one of Ireland's top poker professionals, for another chat about…..well, poker! This time, we asked Padraig about the recent World Series of Poker in Las Vegas in which he did very well. There was also a lot more than just the cards to consider. Stand by for some straight Irish talking!
UKPN: Hello again, Padraig, and thanks for catching up with us to review the WSOP and look forward from here. With regard to an eventful World Series of Poker in Las Vegas, from a personal poker-playing viewpoint, how would you compare this one to some of the others?
PP: As a World Series, it was crap; an absolute joke! From a personal point of view it was great! Thanks to being 50/50 with Scott Grey, I'd never lost money at the WSOP even when I didn't play as I probably should have - and we have had some real good ones - but this one was special because I had made a decision last January to take it seriously and slug it out in the tournaments from start to finish (leaving out the $5,000's as these have the toughest fields). It's a bit of a gamble really. It can very easily go horribly wrong. The structures were horrific so you could quite easily do your brains without doing too much wrong which is what a large number of very good players did. The last week was pretty depressing. 150,000 was a number that kept coming up in conversation. No luck in the tournaments and seven weeks' expenses is a lot of dough these days.
UKPN: You made a final table this year but fell just short of winning a Gold Bracelet; tell us more about that particular tournament ($1,500 No Limit Hold'em), the personalities you came up against, the defining hands and so on.
PP: It was a little weird really. You know some tables at the WSOP this year were almost embarrassing for a Championship event. I thought I'd got unlucky because I got a table with what I thought were three top American tourney players including the likes of David Plastik. Wrong! Greg Raymer stopped to say hello and seemed quite amused that I didn't know how bad it really was. There were three other guys I should have known. Destiny helped out and I got off to a flying start and was able to hang about slagging the boys off while waiting for the table to break.
A few table changes later, I ended up with Mike "The Mouth" (Matusow) and Huck Seed to my left, but by this stage I had the chip lead which kind of helped. It's nice being chip leader in a 2,000 runner event but even I am not stupid enough to get too excited so, in a funny kind of way, it makes it a lot more fun; too much fun! I finished the day nearly last after losing the run of myself a few times. Business as usual!
I got off to a good start and everything just worked out; one of those days. By the time we got down to the business end of the day, Vero, Jesse and Mikki, Mad Marty and his crew and the Irish kids had a bit of a buzz going on the rail so that helped enormously. I made the final lying seventh in chips but with plenty to play with. I got the queens to stand up against AK at one stage which is always nice and went on to take a tiny lead with four left. The lads were very interested in a chop but I wanted the Bracelet and figured not doing a deal was the best way to go about it. Irish is Irish - no bracelet and $100,000 poorer and an A4 v A3 story! Later, I got to think about the meaning of life, but when you've looked at as many glasses as I have, half full is not half empty, I promise you!
UKPN: Apart from that event, you also had decent runs in other events leading to minor cashes, albeit not always covering your buy-in! Summarise how these events unfolded and how you managed to "semi-bubble" so often?
PP: It seemed every time I got past the first few hours, I got in the money and in the money with a winning chance. I'd like to claim I played great but the simple answer is that the structure was so crazy that, if you got any kind of a decent start, the chances were you could cruise along as so many of the better players got left at the start. The semi-bubble that hurt was the $10,000 Omaha. I had bad aces against good aces. A better player might have mucked my hand but I didn't and missed out on a shot at a real Bracelet.
UKPN: What was your overall impression of the WSOP festival this year? Do you think it is becoming unmanageable or in some way unsustainable and can Harrah's do something to improve or streamline the event?
PP: They could improve it by getting somebody else to run it! Beancounters do what beancounters do. The end.
UKPN: I played the Main Event myself and overall felt that the dealers I saw did a good job (at least for the 10 hours I was in!) but there were a couple of cases of players having their cards mucked and chips scooped away while they were still contemplating a decision. What was your own experience and were there any strange dealer tales that you saw or heard about?
PP: I found all the tournament staff friendly and competent. I'm not including whatever clown changed the Omaha clock from 90 to 60 minutes and decided on giving the players as few chips as possible to play with. I hope he's resigned but I doubt it very much. If I did my job half as badly as he does I'd be living in the street. The dealers seemed like the usual mixture to me.
UKPN: On the first day I played the Main Event - and I believe you played the same day – we all heard the tannoy announcement that Phil Hellmuth had been eliminated, which was followed by a hearty – possibly ironic – cheer from the entire floor! You later commented that this seemed a little unfair and of course Phil Hellmuth proved his detractors wrong by the remarkable achievement of making several final tables in the WSOP as well as winning a 10th Bracelet. As someone who crosses his path from time to time, how would you try to sum up "Phil Hellmuth, Poker Player", for someone who doesn't know him?
PP: Phil is like a cross between John McEnroe and Cassius Clay. His desire to win makes him behave like a complete asshole at times but he's way more entertaining than the copycats. He intimidates inexperienced opponents bigtime and some of his tactics are way over the top. On the plus side he can take it as well as give it. A good trait in a man! Poker will die as a big TV sport if we don't get more larger-than-life personalities playing the game. I hope they're not a dying breed.
UKPN: Other than playing poker tournaments at the WSOP, what else did you get up to on the commercial front, and did you play any cash poker tables or find time to get some relaxation in?
PP: I had a deal with 888.com where I wore their shirt and wrote a blog on 888.com/poker/wsop for the duration of the Series. When I first went to the WSOP in the last millennium, Scott and I shared a $25 room in Binions and everything in the food department was free. Times have changed a little so any deal that you can get to cover your expenses is huge. I played no cash at all for the first time ever as I didn't want to get distracted (I'm dead easy to distract!). I just hung out with the 888 guys, who were great company and didn't collect bad beat stories, and Julian (Gardner) who was on a similar mission to mine. Julian always has a great WSOP so you're not going to have to listen to anything negative hanging out with him!
UKPN: Looking forward from here, what are your plans for major poker tournaments in the run up to the Aussie Millions early in 2007, and are you planning on going "Down Under" for that?
PP: No. I'm just back from Atlantic City (best tournaments in the world in the Borgata!). Next week, it's the 888 UK Open (commentary and playing) which is always a great laugh; Paris; Dublin EPT; Foxwoods and Bellagio in December. If airmiles were cash.................!
UKPN: Finally, what's coming up on the poker front in Ireland that you know of that is worth publicising here for our readers?
PP: The EPT in October and the Irish Open Easter weekend. Last year's Irish Open was one of the best tournaments in the world and a very gutsy €2,000,000 guarantee by Paddy Power makes it a must (the buy-in is €3,000). Strange times we live in.
We should also have some news shortly about the next Simon Poker Day (poker for the homeless).
UKPN: A lot to look forward to then! Thanks, Padraig, for your time. All the best in poker!
PP: A pleasure as always.
Thanks to Padraig and please keep UK Poker News bookmarked for news of the next Simon Poker Charity event – supported by Padraig and many other poker pros!
Ed note: Download Paddy Power Poker for a $500 bonus and a chance to qualify for the €2,000,000 Irish Open