On the Set: Million Dollar Cash Game

Paul Sandells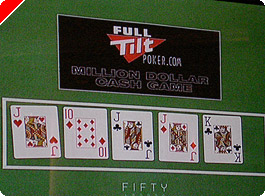 Poker stars from around the world headed to London last night to take part in a huge cash game at Fifty Casino. Full Tilt's Million Dollar Cash Game will be screened on TV in the early New Year. However, UK Poker News got a sneak preview of the action.
Tucked away on the top floor of Fifty Casino, in the heart of London, more than a dozen of the worlds top poker players gathered for one of the biggest games ever to hit the shores of the U.K.
The likes of Howard Lederer, Mike "The mouth" Matusow, Jennifer Harman, Tony G and others took their seats for the early exchanges. With over $800,000 on the table it was no surprise that the action was tense and the play very tight.
Gus Hansen surveyed the action from the bar for a few hours before taking his seat along with Allen Cunningham and Erik Seidel. This truly was a clash of the giants, enforced further by the presence of Phil Ivey.
Tony G left the table for a break early on stating that the game was not offering any action, and lamenting a cheap fold he made. The pot then became very large with Phil Ivey and Jennifer Harman contesting it when the board flopped what would have been a set for Tony G. Phil Ivey was betting with top pair, ace kicker, when a third card would have made quads for Tony G. He said he might have picked up $300,000 on that hand alone. Such is life at High Stakes Poker!
British favourites Marc Goodwin and Roland de Wolfe were holding the fort for the U.K. Goodwin put in a solid display for six hours before leaving in the mid-evening. It was clear from his chip stack that he left with a well earned profit for the session. Goodwin's seat was taken by an anonymous player who UK Poker News later learned to be a Tottenham Hotspur FC director.
We cannot divulge too much in the way of hands or other detail as this is to be screened by Sky Sports in the UK in January 2007.
UK Poker News hopes to chat with Marc Goodwin in an exclusive interview soon. Stay tuned to your favourite Poker web site.
Ed note: Take the $1,000 bonus when you download Mansion Poker and you could be playing the big boys soon