UK Poker News Review: Caro's Book of Poker Tells

Greg Hill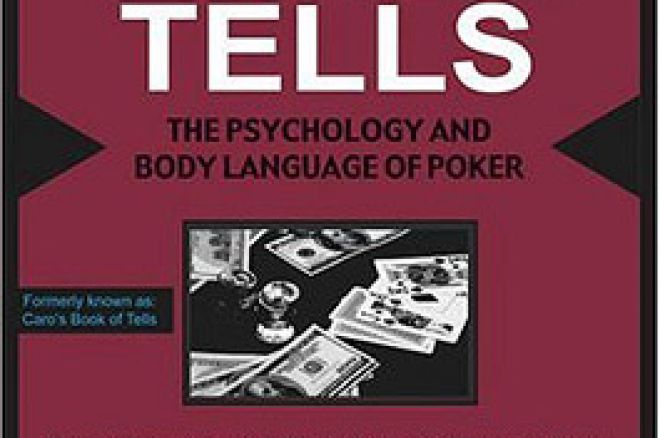 Author: Mike Caro
Publisher: Cardoza Publishing
ISBN: 1402206054
Price: $24.95

In this interesting and thought-provoking book, the "Mad Genius of Poker"; Mike Caro teaches us how to "use the science of tells – and win!" Over the years, Caro has pioneered some of the most important gambling concepts ever written, he is a theorist and works as a consultant to some of the world's leading poker players. His in depth statistics on poker are among some of the most widely quoted today and he is most famous for his work on psychology and the philosophy of gambling.
In the age of an Internet poker boom, this book refreshingly takes the reader back to the live roots of the game, where you could supposedly smell the fear in an opponents bet or physically see the strength of an opponents actions in his un-shaded eyes. It reminds us of how the game used to be played, - smoky back rooms, saloons and bars with your horse parked outside and your pistol as a card protector – well not quite but it does make you realise how the game has changed over the past 5 years and reminds you just how difficult it is to get a read off a static picture of a dog or baby.
This book is very much designed for the 'live' player as it focuses on body language, psychology, physical reactions and very much reading the person - things you just can't take into account when playing online.
Caro uses MCU (Mike Caro University) poker charts throughout this book to plot the history of the hand he is using as an example or to illustrate a point. Chapter 3 is entitled "Using MCU Poker Charts" – I suggest making sure you read this chapter before getting into the main body of text in chapters 4 to 12 as you will struggle to follow the action described. The MCU charts are not the easiest charts to follow and I feel are unnecessarily cluttered but like anything new, you just get used to it after a while.
Once you get past the egotistic MCU charts, the narcissistic background information and vain introductions and actually into the main chapters of the book then you are treated to some excellent pearls of wisdom from the author. Even between chapters there are some thought inducing comments about the way people act and what that may mean about their game approach. Caro teaches you to watch everything, not just during a hand or in the development of a pot but prior to the commencement of a game when people are just getting settled. It also teaches you to observe player's appearances, clothes and jewellery for a potential give away on their probable style – all very thought provoking and it gets you thinking about the guys you regularly play with that seem to fit the profile of the example players in the book and quite often (but not always) what Caro says matches with what you know of that player.
There are three categories that Caro uses to split up the types of tells he illustrates in this book they are; 'general tells', 'tells from those who are unaware' and 'tells from actors'. Within each of these three sections Caro sub-divides into more specific tells such as; 'non-combat tells', 'nervousness', 'fearlessness', 'sudden interest', 'instant reaction', 'weakness', 'opening tells' 'encouragement', 'moves' and 'tricks' and many more. With each tell (and there are lots), Caro assigns a title, category, description, motivation, reliability and a value per hour in dollars. He then discusses the 'tell' in more detail and finishes off with a best strategy that should be employed against this opponent. – It really is very interesting and when thinking about it in relation to your previous experiences is oh so often very true.
Following the main sections of the book, which discusses all of the above tells and would be more than enough for any player to go on, Caro takes the reader through some more areas of poker tells and where information can be gathered. Chapter 8 is specifically on 'the sound of tells', Caro states that a one-time poker professional once claimed he could beat anyone at the poker table with his eyes closed just by listening to the words they used and the sounds they made. This chapter is fascinating and adds to the reader's now already huge data bank of tells on which to draw and is further food for thought for the next time you enter your local card room.
The final four chapters are very much a recap of the main learning points that should be gained from reading this truly captivating book. Caro summarises his 25 laws of tells and finishes off with a play along quiz, which tests the reader's understanding and grasp of the whole text and uses some rather dodgy black and white photos from the 1980's to illustrate the described actions, but I suppose no book is perfect!
Verdict 8/10. (An excellent, intriguing read with great learning points, it's a shame about the MCU charts and the dodgy 80's pictures though!)
Ed note: Win a seat at the Aussie Millions with Team Poker News when you download 888 Poker