Harrington on Hold'em – Volume 2: The Endgame

Greg Hill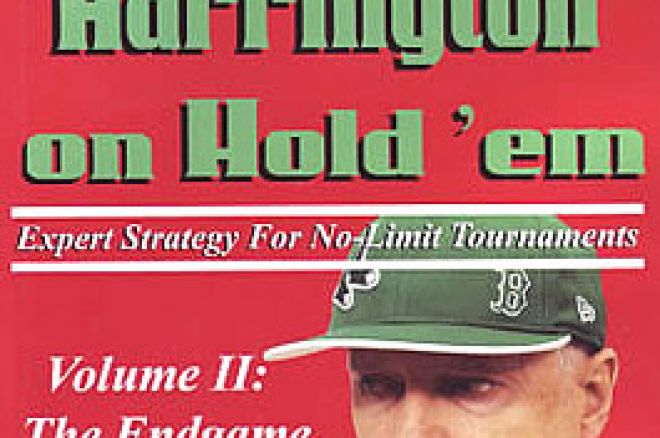 Dan Harrington & Bill Robertie
Price $29.95
2+2 Publishing
This is the second volume of the highly regarded series of 'Harrington on Hold'em' books and it quite literally just follows on in a series style from where volume one finished – the author even explains that the first chapter of this book should really have been placed at the end of his first book but space restrictions forced him to put it at the start of his second book. Methinks there may be more political and promotional reasons for this explanation but don't let that subliminal marketing deter you from diving head-first into the info stuffed and strategy filled pages of this excellent second volume.
In the first volume, highly reputable and successful author "Action" Dan Harrington walked us through his expert strategy for the early stages of No-Limit Hold'em tournaments and volume two builds on that tournament strategy in exactly the same diagrammatical text book style, teaching the reader how to play in the later stages of a tournament when the field has been reduced, the blinds are going up and the end is in sight. The format is familiarly consistent and that is to be expected from a book which is literally just an extension of volume 1. The relevant theory is introduced, discussed, explained and worked through using simple to understand diagrams and examples. – It's an excellent recipe for what has proven to be an extremely informative and successful series of books.
Harrington deals with almost every situation imaginable in this book; from making moves to handling tricky inflection points to making the right manoeuvres at the right times. Harrington has also decided to dedicate a whole chapter to a part of the game which is quite often ignored in a lot of poker texts; Heads-up play. This is a game within a game and some of the hints and tips and advice on offer in this chapter will no doubt improve the game of nearly every reader.
The book is essentially divided into six sections, starting at part eight and running through to part thirteen. This is obviously another clever way of the author advertising the fact that he has another book where the first seven chapters can be found but it also usefully reinforces the fact that the advice contained within the pages of this book fit into a huge overall chronological game plan, which mirror the stages of a poker tournament. Harrington also has a 'volume three' available, which is fundamentally a workbook full of example situations to work through in order to familiarise the reader with the 'Harrington way' learned by reading and digesting volumes one and two. I guess this is designed to really hammer home the messages in diagrammatical and practical form and obviously to squeeze a few extra cents out of the current poker-crazed masses.
Part eight or part one of volume two, whichever way you want to look at it is all about the art of making moves in a tournament. Harrington covers many 'moves' in the pages of this chapter, some of which every newbie will be familiar with or will have at least heard of such as bluffing and slow-playing. There are also some moves, which may cover new ground even for the more serious recreational player such as squeeze plays and dark tunnel bluffs.
Part nine covers 'inflection points', which is explained early on in the chapter by Harrington likening a poker tournament to a football game and explaining situations where certain actions are required, which are governed by the pressures of the game and what is going on in the tournament around you. This is where the author introduces 'M theory' and 'Q theory', which are incredibly valuable formulas for tournament players to commit to memory and since the release of the Harrington on Holdem trilogy have become widely regarded and referred to as critically important in modern day tournaments. Don't worry though if maths really isn't your thing as these theories are far from complicated and shouldn't tax even the most numerically challenged. Harrington also outlines his yellow, orange and red zones in this section, which are calculated using M and Q theory and within each colour coded zone he highlights the required styles of play to be a long term winning and successful Texas Holdem tournament player.
Part ten is a relatively short chapter, which builds on the learning points from earlier in the book and covers other areas of the game such as multiple inflection points, assessment of position and isolation plays as well as how to calculate pot odds in all varieties of different situations.
Coping with short handed tables and adjusting your game according to the amount of players you are facing is the subject of part eleven. There aren't many poker books that cover short handed play and there are even fewer that cover it well so I found some excellent advice in this section that wasn't just repeating things I had heard before from other authors who to be honest have in my opinion kind of neglected to explain the finer nuances of a short-handed confrontation. The same goes for part twelve, which is an excellent section on heads-up play, which redefines the hand rankings that many players have become accustomed to earlier on in the tournaments and really re-enforces the fact that you have to be prepared to get aggressive and gamble in heads-up situations and it takes a quite optimistic view highlighting that almost any hand you have may well be already winning and that almost any hand will have implied pot odds to be worthy of being played. Harrington again utilises the power of worked examples to get across his message and to really drive home the key learning points from the chapter.
This is a must have book for more than just the obvious reasons of it containing excellent strategic information and being well written and explained. Harrington's books have proved so popular that even if you don't agree with his ideas or don't learn as much as you think, at least you will have an understanding of how pretty much everyone else is thinking and playing! Verdict: 8/10
Ed note: Download Bowmans Poker for some of the best Hold'em action around