Gold Aims for Gold at the WSOP Main Event Final Table

Tony Bromham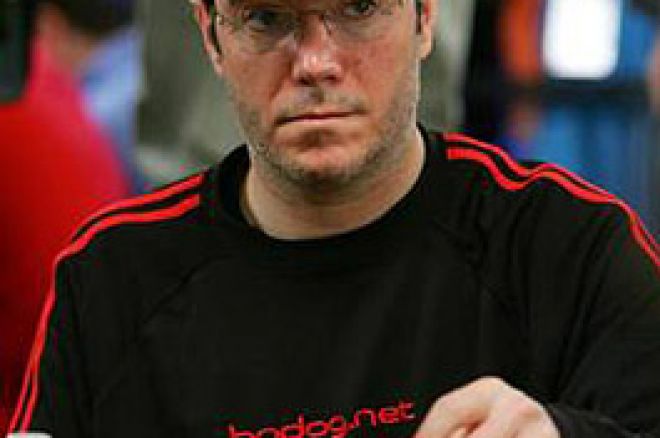 A fearless display of near-reckless, aggressive, no limit hold'em poker from amateur player Jamie Gold – albeit a player good enough to have received personal tuition from the immortalised Johnny Chan – saw Gold enter the top ten with a huge pile of chips - over $25,000,000 worth. Compare this to the $11,000,000 plus change held by Richard Lee in third place and you'll understand that every player bar second placed professional Allen Cunningham faces a stiff challenge for the title of World Champion!
But no-one should discount Cunningham, the four-times Bracelet winner, who has all the weapons necessary to give himself maximum leverage on this tournament. But, like all final tables - as demonstrated last year when Australia's Joseph Hachem nursed a small stack to ultimate victory – the turn of the cards in one moment of fate can be deadly to a player's chances no matter how well he maximises his chances. Just ask Andy Black of Ireland who last year saw his final table chip lead disappear in a puff of dry ice and an ace on the river.
The bottom line is that any of the players has a chance to win but the cards have to be kind when the chips are down.
These are the final nine:
Seat 1: Richard Lee, $11,820,000
Seat 2: Erik Friberg, $9,605,000
Seat 3: Paul Wasicka, $7,970,000
Seat 4: Dan Nassif, $2,600,000
Seat 5: Allen Cunningham, $17,770,000
Seat 6: Michael Binger, $3,140,000
Seat 7: Douglas Kim, $6,770,000
Seat 8: Jamie Gold, $25,650,000
Seat 9: Rhett Butler, $4,815,000
Allen Cunningham's performances are impressive and he may be in a position to take the title of WSOP Player of the year for the second year running which, given the vast numbers of entrants in these recent festivals, would be a stunning achievement and testament to this player's extraordinary poker skills.
There were too many players in this Main Event for us to list the British and Irish players who have cashed out but an honourable mention should go to those finishing in the top 100 spots:
12th – John Magill (Ireland) - $1,154,529
48th – David Murray (Ireland) - $164,932
50th – Richard Gryko (UK) - $164,932
54th – Scott O'Reilly (UK) - $164,932
77th – Anthony Fagan (Ireland) - $65,973
83rd – Matthew Morgan (UK) - $51,129
99th – Paul Coles (UK) - $51,129
Ed note: Download Everest Poker for a special $100 bonus using code PNEWS1 and play the biggest WPT satellite tournaments.