The World Series of Marketing

Tony Bromham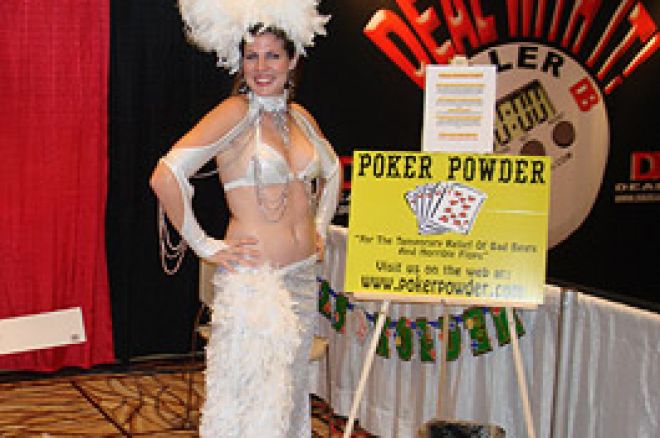 A new visitor to the World Series of Poker, especially if he or she is not familiar with Las Vegas, should be prepared to have their eyes pop out on stalks. The same might even be said for poker players of a decade or two ago who may have long since retired to a quiet island, for things have changed in Pokerland.
Rampant commercialisation is evident here; and no wonder, for every man and his dog seems to have secured a place in the Main Event or simply travelled to see the festival up close and personal. With that in mind, the purveyors of all things poker are here in their droves filling up the huge exhibition centre and beyond with power-selling displays of poker goods laced with plenty of sex appeal in the form of overtly-displayed and under-dressed young female models!
Make no mistake, the target here is the young male poker player of which there are thousands milling around. Every stand bar none is fronted by said models ensuring that contact is made between potential punter and potential sale. Get the punter's attention and they might sign-up, buy, register interest, whatever it takes to make a sale.
Bodog.com has a well-appointed upstairs section on their stand, complete with king sized bed and numerous shapely, skimpily-dressed females. You are invited to engage in a pillow fight.....!
Pokerstars has conveniently parked a shiny new Aston Martin car next to its stand. Come on young man…Roll up, sign on, win a car!
Want to be Daniel Negreanu's next poker protégé? No problem, sign up to Full Contact Poker and you are on your way.
For the older generation, there are huge posters of Doyle Brunson on view from a distance to pique the interest. Come closer and see what's for sale!
Want to appear the cool dude at the table? Well, here is the latest in eyewear, or is that headwear? It could be both, in fact it is a visor worn like an eyeshade. To your opponents, your eyes are hidden. Yet, when you look down, you have a clear view of your hole cards. Splendid!
What else? Oh yes, battleships! Two players sat opposite each other separated by two giant monitors on which an online game of poker is displayed using the latest 3D virtual reality poker graphics. It's almost enough to make you forget to look at the cards you've been dealt.
Finally, something for everyone! Who has not suffered a long run of bad beats or a stone cold deck? Your answer, at a stand fronted by another attractive young lady in fancy dress, is Poker Powder, "For the temporary relief of Bad Beats and Horrible Flops".
You couldn't make it up!
Ed note: For great poker around the clock download 24h Poker and claim a huge €400 bonus!