Sunday On-line Tournaments Round-Up

Greg Hill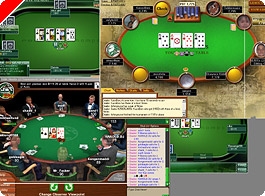 Sunday service resumed this weekend for the top internet poker sites. PokerStars again ran a tournament guaranteeing a $1m prize pool but this time the buy-in was increased from the usual $215 to $530 as it was the last Sunday of the month. This increase in outlay did result in a severe decrease in numbers from the near 6000 that anted up the entry fee last week, but it didn't affect the overall prize pool. 2452 players entered, resulting in a whopping $1.2m to play for. It was a strong field as always and it included some well-known UK players including Keith 'The Camel' Hawkins, Richard Ashby (CHUFTY) and Dave Penly (riverdave) but unfortunately they all failed to make their marks on the final table proceedings. Jason Strasser (Strassa2) was one top American 'name' to narrowly miss out on the final table as he came in 14th place for $7,000.
In a final littered with Scandinavians and Americans, it was one 'Ocrowe', a lonely Canadian that took home the biggest slice of cake, winning $218,250 and the tournament outright with no deals taking place. The UK was represented in the final by third place finisher 'uwhat' from Telford in Shropshire – congratulations to them!
Here are the final table results in full;
1.Ocrowe $218,250
2.FoxyLisa $131,556
3.uwhat $76,630
4.Kuparinen $63,656
5.Pokerturk $52,137
6.dbo336 $40,618
7.tony1967 $30,312
8.Mr.Ruger $23,000
9.Dethlefsen $14,000
Party Poker hosted their usual 'Sunday Million' $215 buy-in tournament, which attracted a massive 5523 runners and produced a $1.1m prize fund. Numbers were up from last weekend, which was probably partly due to the buy-in for PokerStars 'Sunday Million' being increased, so a few medium bank-rolled 'floaters' no doubt gravitated towards the smaller buy-in event. It took 9.5 hours to get to a climax in the Party 'Million' and after all the grinding and fighting of the previous 9 hours and the departure of THEWachovia in 9th place for $11,046 a final table deal was struck, where the top 8 players that were left shared out the remaining $477,000. Unfortunately details of the payouts cannot be released due to a deal being made between the players. This is how the final 9 players officially finished after the deal;
1.Fishosaurus
2.Sir_Gurne
3.TCarrico
4.Jojje_G
5.billy_wu
6.yowo1
7.MrBergdorf
8.Jabbaawa
9.THEWachovia $11,046
Ultimate Bet held a $215 buy-in tournament with $200k guaranteed this Sunday, which although struggled to compete with the prizes on offer in the Party Poker and PokerStars tournaments, did produce a nice prize pool of nearly $210,000. Ultimate Bet also placed bounties on the heads of 19 of their players, which were worth $215 each, covering the cost of the buy-in should you have been be lucky enough to despatch one of the nominated players to he rail. This provided excellent value for money to those drawn on the same table as this much sought after prey and led to some added enjoyment for those involved. It seemed to do the trick as none of those players with bounties on their heads made the final table, which was arrived at after 6.5 hours of play. It took a further hour of play for a result to be reached and here is a list of the final table results;
1.naz82 $46,100
2.moknee $27,000
3.clbroth $18,600
4.drossxyu $13,600
5.Nutstr844 $11,000
6.DitkaMike $8,800
7.cp_magician $6,700
8.number1pen $4,700
9.1 Time Lucky $3,600
Next Sunday sees the return of these excellent and popular tournaments (although the PokerStars buy-in will reduce back to $215) and with satellites running all day every day from as little as $3, why not give them a go yourselves and see your own name in next weeks Sunday round-up. – Good Luck!
Ed note: There is even more big money to be won at Mansion Poker with a $1000 bonus for new players